NDAA Update: And now for the rest of the news….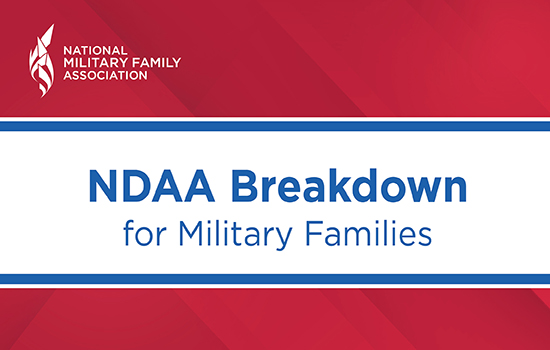 The path for the FY 2022 National Defense Authorization Act (NDAA) has been anything but easy. But even with all the starts and stops this year, the House and Senate have landed in a good place. Here's what military families can look forward to in this year's defense bill.
Basic Needs Allowance
Military families struggling to put food on the table will benefit from a new Basic Needs Allowance. This is a solution we've long advocated for, and its inclusion in the NDAA will require the Department of Defense (DoD) to create a policy to serve eligible families. Read more about the Basic Needs Allowance here.
Child Care
Throughout the pandemic, you've told us how untenable your child care situations have become. We shared that with policy makers and legislators, and they listened. The Services will build seven new Child Development Centers and some families will be able to utilize the expanded in-home fee assistance child care pilot. Learn more about the expansion in child care services here.
Health Care
Military families can look forward to several health care policy changes, including expanded coverage for eating disorders, as well as prenatal and postpartum care, but there's still work to do. Read more about the health care changes here.
Spouse Employment
Military spouses struggling to find employment can look forward to new opportunities with a paid fellowship. Within the NDAA, Congress has established a three-year pilot program to provide employment support through a paid fellowship—something we've advocated for throughout 2021. We don't have any details for what the program will look like yet, but we believe the fellowships will provide military spouses another opportunity to find meaningful employment.
Congress has also directed the Defense Department to conduct a study to identify employment barriers affecting military spouses. While we usually don't get excited about a study, this one caught our eye. It will examine:
The rate of military spouses who are currently employed and whether they have children
The rate of military spouses who are underemployed
If underemployed, whether a military spouse would have taken a different position if the spouse were not impacted by their spouse's military service
The rate of military spouses who, due to military affiliation, have experienced discrimination by civilian employers, including loss of employment, denial of a promotion, and difficulty being hired
Any other barriers into the local workforce to include:

State licensure requirements
Availability of child care
Access to broadband
Job availability in military communities
Access to housing
This comprehensive, DoD-sponsored study is long overdue and will provide an official examination of military spouse unemployment and the impact of the pandemic.
Paid Parental Leave
Service members already have access to paid parental leave, but the amount of leave has varied from Service to Service. Congress has addressed those inequities and standardized paid parental leave across the Services and made the benefit consistent with those offered by civilian employers.
The FY22 NDAA provides a total of twelve weeks of paid parental leave during the one-year period after the birth or adoption of a child, or the placement of a child for long-term foster care. These important changes will make sure our military families have a strong start.
Service members will also have up to two weeks of bereavement leave in the bill when they lose a spouse or a child.
Exceptional Family Member Program
Congress also acted to ensure that the voices of special needs family members are heard. The bill revives and expands the Advisory Panel on Community Support for Military Families with Special Needs, which is intended to advise the Secretary of Defense and the Services on the needs of families enrolled in the Exceptional Family Member Program (EFMP). The newly reconstituted advisory panel will include at least one enlisted service member, the spouse of an enlisted service member, a junior officer and a junior officer spouse, and must also include at least two active-duty service members with a dependent enrolled in EFMP.
Support for Public Schools
Finally, we're grateful that Congress has once again acted to support public schools serving military-connected kids. The bill authorizes $50 million for local school districts with large numbers of military-connected kids, and another $10 million for schools serving military children with special needs. This is important funding to ensure that military kids in public schools receive the high-quality education they need and deserve.
The 2022 NDAA has many important wins for military families, but the fight doesn't stop here. NMFA will continue to advocate on your behalf. Continue sharing your stories with us as we do.