NDAA Soft Pedals on Child Care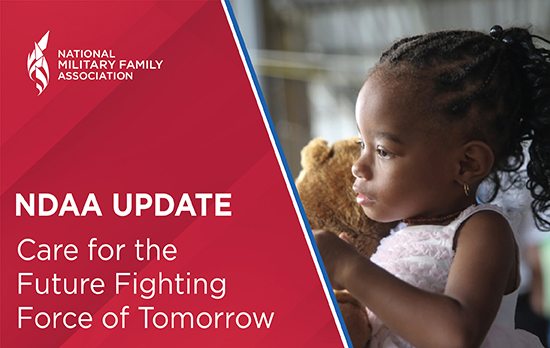 The National Defense Authorization Act (NDAA) is finally in the home stretch. After months of behind the scenes work this fall and a quick House passage on Tuesday night, military families are now able to see what the NDAA has in store for them. The final bill reflects a compromise reached by Congress that avoids certain hot button issues – like adding women to the draft, among other things – while also providing bi-partisan support for certain initiatives to better military life.
As our nation continues to reel from the pandemic-heightened child care crisis, the NDAA will enact a few new child care programs, projects, and reports that should, albeit slowly, improve the military child care system. We advocated for you and Congress listened, creating compromised provisions that will put us on a path to affordability, increased access, and safer facilities on base.
Our military children's care and wellbeing is paramount to military family and financial readiness. Statistics show that many military children are likely to serve in the future so ensuring our military kids have the care they need isn't just good for military families – it's good for America's military.
Here's what military families need to know.
We will see seven new child development centers (CDCs) at the following installations:
Fort Leavenworth, Kansas
Fort Knox, Kentucky
Wright-Patterson Air Force Base, Ohio
San Antonio-Fort Sam Houston, Texas (2)
Sheppard Air Force Base, Texas
Royal Air Force Lakenheath, United Kingdom
Sheer volume of CDCs isn't the only thing we need – we need to make sure that our CDCs are safe. With 135 CDCs operating in poor or failing condition, far too many facilities are long overdue for repair. This year's NDAA lays out measures that will be taken to ensure the safety of these CDCs and the military children inside them. Congress is requiring safety inspections of all CDCs over the next year to identify any safety hazards, a remediation plan to fix them, and a plan to prevent any poor or failing CDCs in the future. We will continue telling Congress to prioritize funding for repair of all these facilities.
The in-home child care fee assistance pilot program will be expanded.
This is great news for families who use babysitters or nannies in the home, rather than center-based care. The Department of Defense will determine what locations will be eligible and we will continue to advocate for families who want to take advantage of this opportunity. Until 2021, fee assistance administered by Child Care Aware of America was only available for eligible civilian child care centers or family care centers (in a child care provider's home). The expansion of the stipend pilot will help more families access the care they need and will do so while greatly reducing costs for families with young children. The stipend is dependent on the total family income. Contact us if you want to learn more about this cost-saving program.
NMFA has long advocated for public-private partnerships between civilian facilities and the installation to create greater child care capacity for military families in the community. These partnerships have already proven successful in San Diego and we want to see the model replicated in high demand areas. We know that leaders in Congress share our support of this program, but there is no funding or requirement in the NDAA. Congress is, instead, encouraging these partnerships. That's better than nothing, but it's not the emphatic support we need to ensure families have the access to high-quality, affordable care they need. We will continue to work with the Services to ensure they are learning best practices from each other and increasing child care capacity.
Military families have faced a child care crisis long before the pandemic and NMFA has led the effort to advocate for innovative solutions and timely action to help ease the financial burden of child care and create greater access to safe, quality child care options. The NDAA gets us part of the way there – but it's not enough. We want to see dependent care flexible spending accounts available for service members, all 135 poor or failing CDCs repaired or rebuilt immediately, and greater capacity in every community where families struggle to find child care spots.
We will continue to advocate on your behalf to make sure this happens.