There are 327 million people in the United States. Only 1% serve in our military. Since 2001, the start of our nation's longest war, more than 3 million family members have been left behind as their loved one deployed.
Exhausted military families need our help more than ever. Help us continue our mission of strengthening our nation's families through programs designed to encourage healing, reduce challenges, and overcome obstacles together.
Through frequent moves, deployments, wartime stress, injury, and loss, military families need your support. Your gift will show these families that together we're stronger.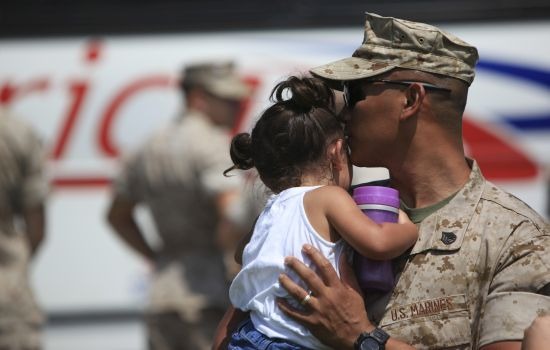 IRA Charitable Rollovers
When you are 70 ½ or older and own an IRA there is a great donation option through the Individual Retirement Account (IRA) Charitable Rollover. Taxpayers can direct the custodian of their pretax traditional or Roth IRA to transfer up to $100,000 per year to a public charity such as NMFA without having to count that distribution as taxable income. In order for a donation to qualify under the law, you must instruct your financial advisor, bank, or IRA administrator to transfer funds from your traditional or Roth IRAs directly to NMFA and identify you as the IRA account owner/donor, with your name and address on the distribution check or accompanying materials and send it to:
National Military Family Association
2800 Eisenhower Avenue, Suite 250
Alexandria, VA 22314
Tax ID: 52-0899384
Distributions from your traditional or Roth IRA made directly to NMFA can satisfy all or part of this year's required minimum distribution. Call us at 703.931.6632 or email us at [email protected] if you have any questions.
Matching Gifts and Workplace Giving
Double your gift with a match from your employer! Did you know many companies match the charitable giving of their employees, spouses, and retirees? Simply ask your company if they match these gifts and complete the form provided by your employer. After you fill out the form, send the form with your gift (or send it separately if you make an online donation) to:
National Military Family Association
2800 Eisenhower Avenue, Suite 250
Alexandria, VA 22314
We will process the match and return the form to your company. Call us at 703.931.6632 to answer any questions.
Donate in lieu of Corporate, Holiday and Wedding Gifts
By making a thoughtful financial donation to our Association on behalf of your company or event, you'll highlight your commitment to supporting our military families. If you would like us to help direct you, or your attorney, to initiatives that better support your personal interests and supply the customized language, please contact us. We can also help if you would like to make a legacy gift in the name of an honoree, living or deceased. Although we cannot answer legal questions, we would be happy to help with any questions you may have about our Association or giving opportunities. Just call the Development Team at 703.931.6632.
Wire Transfer Info for Stock Donations
If you have appreciated stocks, bonds, or mutual fund shares you have owned for more than one year, consider transferring those shares to the National Military Family Association (NMFA) as a more affordable way to make your most generous gift.
Example:
You would like to make a donation of $2,500 to NMFA
Your shares of XYZ stock, purchased for $1,820 have appreciated to $2,500
You transfer the shares to NMFA, receiving gift credit for the current market value
You qualify for an immediate income tax deduction of $2,500 AND the out-of-pocket cost to you is only $1,820
In addition, you pay no tax on the capital gain
Everyone involved wins…Military Families along with YOU!
Please send Wire Transfers for Stock Donations to:
CJM Wealth Advisers, Ltd
11320 Random Hills Road, Suite 250
Fairfax, VA 22030
703-425-0700
800-916-9581
Contact: Tracey Baker and Anthony Jones
Account # P53-131036
DTC # 0443
Please also email our Development Director, Lyndy Rohe with donor name and contact information so we can ensure the gift is properly acknowledged. Thank you!
Donate Your Vehicle
Donating your car, truck, van, SUV, boat, motorcycle, ATV, RV, trailer or airplane and donating the proceeds to military families has never been easier! Call CARS (Charitable Adult Rides & Services) at 1-855-500-RIDE or go online and they'll do the rest. Schedule a free pick up from anywhere in the US (and some areas of Canada).
Through "Vehicle Donation to Any Charity," you can donate any kind of vehicle – at no cost to NMFA, or you! All you'll need is your vehicle information and to fill out a few forms, and they'll take care of the rest – from arranging to pick up your car to sending you a tax receipt. Call 1-877-999-8322 or visit the VDAC website to donate today.
Questions? Give us a call at 703-931-6632.
Planned Giving
Military families have selflessly supported our service members for generations—and their sacrifices will continue long after any of us are here to show we care.
Planned Giving is a way to support our nation's families with a pledge for the future. Multiple avenues are available for you to commit to the well-being of military families. Planned Giving also helps to ensure that your family avoids the tax burden associated with funds left behind, and it can:
Ensure that the National Military Family Association continues its important work of strengthening and protecting our nation's families through programs and advocacy.
A last generous act through your will can be a memorable way to leave a legacy of philanthropy and love for your family. Click here for our FAQs.
Our Legacy Circle is comprised of donors that are forward thinking supporters who have a meaningful connection to National Military Family Association and who have an interest in doing something bigger, lasting beyond their lifetime. Legacy Circle members receive a special token of appreciation from National Military Family Association. Members are recognized in our annual donor listings (however, the members can be anonymous, if they wish).
Find out more about our donor programs.
Charity Ratings
Through our continued advocacy on behalf of military families, we have commanded respect throughout the military and civilian communities. You can feel confident in your donation, as we:
Hold an "A" rating from CharityWatch
Meet all 20 of the Better Business Bureau's standards for Charity Accountability
Rank at the "Platinum" level on the Guide Star 2019 Platinum Seal of Transparency