Testimonials
Military families describe our impact.
Operation Purple Programs
Operation Purple Programs aim to strengthen and empower every military family member through outdoor exploration and engaging activities. Each program is designed to reach families, whether in their homes or campsites, with enriching experiences that will help strengthen the family bond long after the programs end.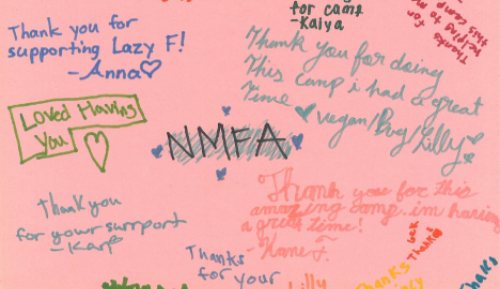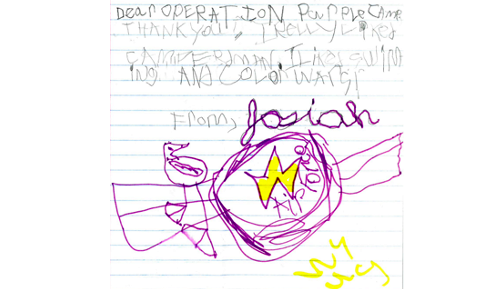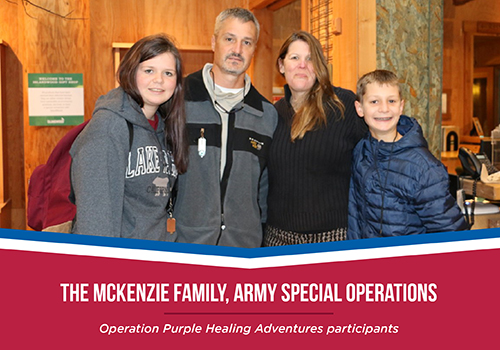 "The thing about PTSD is that you don't really understand that you have it until it's pointed out to you. There's been no judgment, no expectations, at Operation Purple Healing Adventures, and it has provided every family the opportunity to just reconnect. The fun has been the best therapy. This program really has made a difference—they don't just talk about supporting veterans—it really is making an impact."
-The McKenzie Family, Army Special Operations
"The multiple deployments, through time, takes its toll. Making the connections with like families at Operation Purple Family Retreats has definitely helped us. The kind of experiences we got from this program are amazing. It's impacted our lives quite a bit."
-The Juarez Family, Air National Guard veterans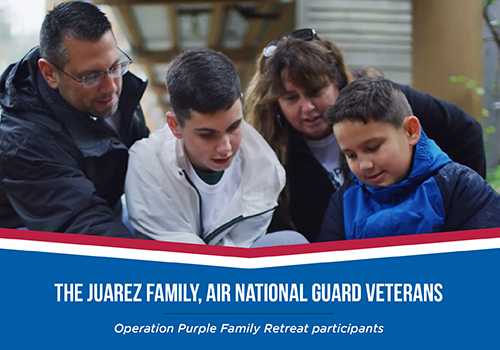 "
We're so grateful for this opportunity for him to learn and grow alongside other military kids.
Manfre Family, Coast Guard
"
We want to say a big thank you to this incredible organization and program. My kids are both still telling Camp Surf experiences and stories! They've both grown so much from their camp experience. we are so grateful for all of it!
Logsdon Family, Marines
"
Operation purple you have made dreams come true for my family. My kids have lived the majority of their lives on overseas orders unable to attend any camps. This year YOU made those dreams a reality. From the bottom of our hearts, thank you to this organization, all the donors and all the wonderful staff!
McCraine and Mohn Family, Navy
For over half a century, NMFA has been the trusted 'go-to' organization to be the voice of military families across all branches. Our well-known boots-on-the-ground approach allows us to speak on legislative issues, fight for meaningful and impactful policy changes, and advocate on all fronts for the military families of today and tomorrow.
Help us continue to fight for military families.
Thank you for everything you do for military families; it means the world to us to know that our family's sacrifice does not go unnoticed. – Beckner Family, Air National Guard
I appreciate all that you do for military families. I wouldn't trade this life for anything and I am grateful for those who acknowledge and support the military family. – McLaughlin Family, Army
Keeping military families informed on legislative priorities and what's happening on Capitol Hill is deeply appreciated. Our family feels our concerns and challenges are being heard by lawmakers. Thank you. –Williams Family, Coast Guard
When a military member has been serving for 20 years, most families approach another military-mandated move like it's an old hat. And for some things, it is. They know how to house hunt, what not to let the movers pack, and most know how to get connected in their new community. But when it comes to moving school-aged children, the situation is never the same as the last time.
For The Smiths, a good education for their teen daughters was top priority. NMFA helped The Smiths, and three other families, elevate their voice to the Virginia Department of Education as part of our Education Revolution advocacy efforts.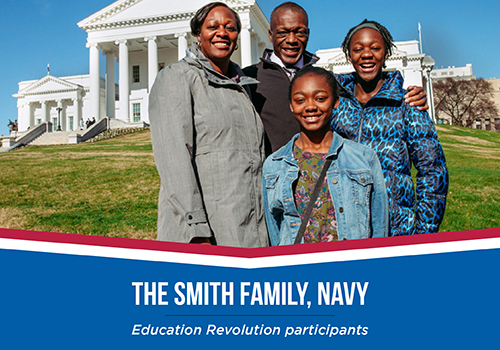 Military Spouse Scholarships + Professional Funds
We help bridge the gaps between military spouses, their desire to seek higher education and career advancement, and the financial strain that sometimes prevents them from reaching those goals. With NMFA scholarships and funding, military spouses go on to do great things, adding to the financial stability of their households.
Your immense kindness in awarding me such a large scholarship has greatly lightened my financial burden, allowing me to truly focus on the most important aspect of school: learning.
Your generosity has inspired me to help others and give back to our strong military community. I hope one day I will be able to help other veteran and spouse students achieve their goals just as you have helped me.
Caitlin Murphy, Marines
This has motivated me to continue pursuing my goals while managing the demands of work and school.
Your organization is a true blessing to people like me who face various challenges in making ends meet, especially with humble beginnings. Thank you for this great opportunity and for being a source of blessings to others.
KeVaughna Adams, Army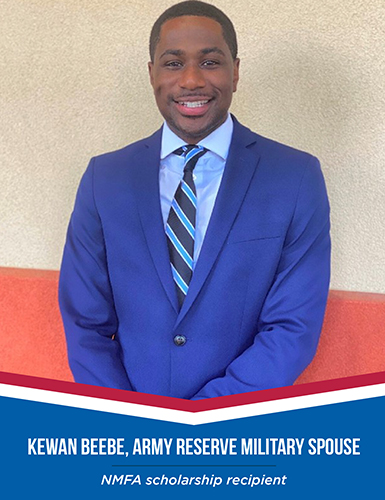 "I am the first of my family to finish my undergraduate years for college, and I will set the bar when I get my Master's in Criminal Justice. I've been working extremely hard throughout life to be in this exact moment, and to have this exact feeling—almost being finished with accomplishing what is a huge deal for me.
My wife, who is in the military, will also finish her master's and we hope to walk the stage together in June 2022. I work in Law Enforcement and, together, we take care of a one-year-old child who we hope follows our footsteps. This is a great deal for my family. I am so thankful."
KeWan Beebe, Army Reserve military spouse
NMFA scholarship recipient