Sign Up for Our Video Newsletter

1% of our population serves in the military.
When a military member serves, their entire family serves, too. Nobody knows that better than you.
That's where we come in.
At NMFA, we stand behind our nation's military by supporting their loved ones who serve silently. We speak up for you and work to enhance your quality of life as a way to say thank you for your unique sacrifices.
Sign up for our monthly video newsletter, where you'll stay up-to-date on NMFA's efforts and the many resources and programs available to you.
Don't miss out!
Complete the form below to receive your monthly newsletter.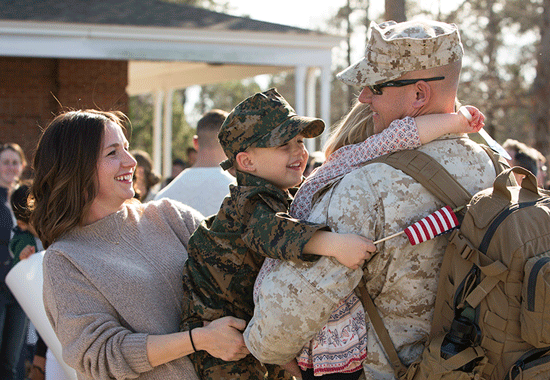 When you get our monthly newsletter, you'll receive critical information on:
Upcoming in-person and virtual Operation Purple events
Important advocacy initiatives and efforts
Exclusive scholarship opportunities for spouses
Exciting giveaways, contests, and other celebrations
New Child Care Fee Relief program announcements
Opportunities to volunteer or work for NMFA
Special event details you can attend in person or virtually
Timely articles and information on issues facing military families, plus resources to help

…And more!
Your Voice Matters. Your Story Changes Lives.
As advocates for military families since 1969, we know that stories are what help make change that matters. We listen to our nation's military families when they have issues, and we take those stories to the people who can make a difference—whether that's Senators and Representatives on Capitol Hill, the Department of Defense, or the President of the United States.
We won't stop until families are taken care of on all fronts of their military journey.
Do you have a story to tell? We'd love to hear it and help.