Health Care in the NDAA: Some Wins for Military Families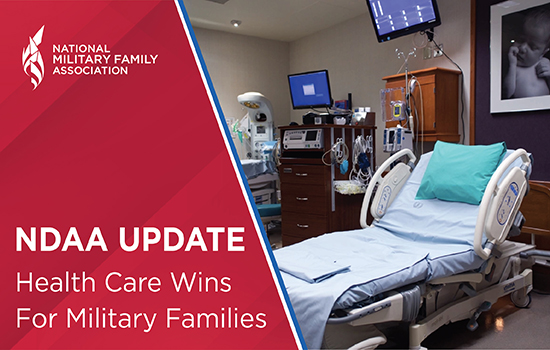 Tucked in among the thousands of pages of legislation in the National Defense Authorization Act for Fiscal Year 2022 (FY 2022 NDAA) are provisions that will improve health care coverage and access for expectant parents, new moms, and families struggling with mental health challenges. We're excited about these improvements, which bring TRICARE closer to coverage offered by top commercial plans.
Coverage of Treatment for Eating Disorders (Section 701)
Currently TRICARE only covers partial hospitalization and intensive outpatient treatment for eating disorders for beneficiaries up to age 20 – an arbitrary limitation that keeps military family members from receiving care they desperately need. Congress removed that restriction in this year's NDAA for most military family members. We're thrilled that military family members struggling with eating disorders will be able to get the care they need regardless of their age. Unfortunately, the barrier remains in place for retirees and their families – removing it will be one of our top priorities for 2022.
Pre-Conception and Prenatal Screening Tests (Section 702)
Doctors routinely recommend that prospective parents be tested for genetic conditions that could be passed on to their children, such as cystic fibrosis, Tay-Sachs disease and Fragile X Syndrome. TRICARE currently doesn't cover this testing, but that will change when the FY 2022 NDAA goes into effect. Congress has directed TRICARE to cover one test per condition for a range of genetic conditions. Military families deserve to know whether they are at risk of passing on genetic conditions to their children; we're glad prospective parents will receive this opportunity.
Improvements in Postpartum Care (Section 707)
The quality of care you need after you've had a baby is critically important. Congress directed the Department of Defense (DoD) to establish clinical practice guidelines to improve treatment and outcomes for moms who deliver their babies in Military Treatment Facilities (MTFs). The guidelines will address screening for postpartum depression and pelvic health assessment and treatment. These are normal things you can expect in a civilian hospital, and you should be able to expect them at your MTF, too. DoD will also be required to develop a policy for scheduling postpartum appointments, including an assessment of whether those visits should be scheduled to coincide with well-baby visits. We're hopeful that these guidelines will improve care received by new moms at MTFs.
Scheduling Mental Health Appointments (Section 734)
Families have been telling us for years about the challenges of accessing mental health care. That crisis has only gotten worse during the pandemic, which increased many of the stressors associated with military life. We know that for many military family members, even the process of scheduling a mental health appointment can be overwhelming: navigating confusing, outdated provider directories to find a provider who takes TRICARE and is accepting new patients can feel impossible – and it often is.
The NDAA provides for a new mental health appointment scheduling pilot that we're hopeful will ease the burden on families by connecting them directly with mental health care providers.
We know these provisions won't address all military families' problems in accessing high quality health care. Real issues and gaps in coverage remain. We're encouraged by the steps Congress did take – and we'll continue pushing until all military families can get the right care, from the right provider, at the right time. Military families deserve nothing less.