Highs and Woes of EFMP: My Military Family Experience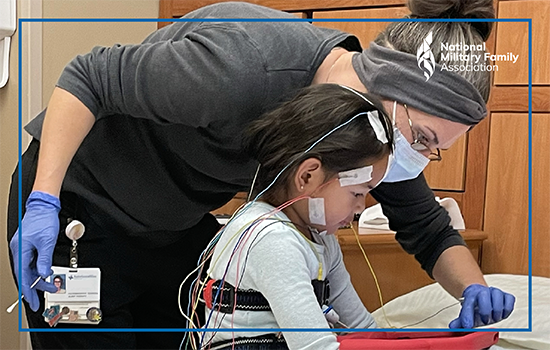 Military families, new and seasoned, can attest that military family life can teeter from honor and pride to worry and confusion on any given day. The worry and confusion can weigh heavier for special needs military families like mine. To alleviate some of that weight, I have learned it is important to rally around support, stay informed about policy, and voice your story.
At NMFA, we have taken your stories to Congress and continue to advocate for special needs families and provide resources. While significant work is being done on Capitol Hill regarding the Exceptional Family Member Program (EFMP), there are a few additional lifesavers out there.
Community and Support for Families Enrolled in EFMP
As an Army family with two special needs kids, the exceptional family military community has been a lifesaver for us. It may be in the form of a Facebook group or the EFMP office at an installation, but they both have quelled my feeling of helplessness and replaced it with hope, solidarity, and friendship. Quick or complex questions, the military community of special needs families will be there for you.
I can personally attest to the help that comes from EFMP Navigators. EFMP navigators are available agents ready and willing to assist families with anything ranging from answering general questions about duty stations to advocating for your access to available systems of care. You can find your local EFMP Navigator at your installation EFMP office or utilize Military OneSource to get in touch with an agent.
In preparing for a PCS from Joint Base Lewis McChord, WA, to Fort Hood, TX, I emailed our local navigator to find out what to expect about the assigned location for available services for my one child on the Autism Spectrum and my other with a heart condition. She called me within minutes of receiving my email and spent over an hour providing words of support, lists of resources, and reminding me that no question is pointless.
In hindsight, that experience gives me great assurance that our military families with special needs are not alone in their quest for any answer.
EFMP Promises and Action
It would be short-sighted not to mention that while the military has put programs in place to support their special needs families, there is much room for improvement. Special needs military families move with urgency when it comes to care. When we are slowed to a turtle pace—be it TRICARE hiccups, specialist shortages, or long waitlists—we naturally feel frustrated and undervalued.
In March, the Department of Defense issued a memo expressing commitment to improve support for military families, including enhancements to EFMP. This is the right step in the right direction. While these promises sound great on paper, I know that military families like mine are more interested in swift action and implementation of better policies.
As we enter the summer PCS season, a range of emotions will arise for military families; I venture to say it will include numerous calls and paperwork for EFMP families like mine. And while I navigate through it all, I hope military families akin to my own will find value in the current resources available and will share their stories. Together, we can get the attention of the DoD's Office of Special Needs, service branch EFMP leadership, Personnel & Readiness and Manpower and Reserve Affairs to hear us and make informed decisions that impact us.
What are your top concerns for families enrolled in EFMP? Share your story below.
By: Angela Sablan Tenorio, Content Manager