NMFA Urges Congress to Act for EFMP Families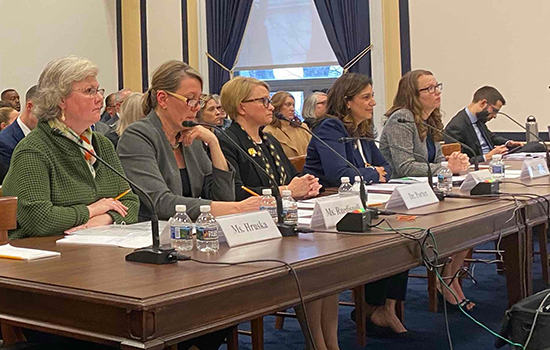 The National Military Family Association joined military families and support organizations in testifying before the House Armed Services Committee Military Personnel Subcommittee about the issues plaguing the Exceptional Family Member Program (EFMP).
EFMP is a mandatory-enrollment program for all military dependents with ongoing medical, mental health, or special educational needs. It exists to support families with assignments and services, but many families have not been taken care of.
EFMP families are often sent to areas not equipped to handle their medical or educational needs. They're forced to pay high out-of-pocket costs for sub-par care and in many cases don't feel empowered to raise their hand to ask for help due to fear of retribution. They fear blowback on their children's care and the service member's career.
It's incumbent upon the system to work so military kids are safe wherever they're sent.
"We ask Congress to require DoD to develop and publish performance metrics to evaluate assignment coordination effectiveness to include evaluation of capacity of the available medical services and therapies and not just a yes/no availability," testified NMFA Government Relations Director Kelly Hruska.
The HASC Subcommittee showed bipartisan support for taking action to help EFMP families.
"We owe them more," said Committee Chair Rep. Jackie Speier (D-CA), who told the panel she too raised a child with special needs. "If we make them choose between their families and their jobs, they will choose their families. As they should."
Families are paying higher out-of-pocket costs but that must result in improvements to their health care system. We ask Congress and DoD to:
Reduce copays for mental health visits and physical, speech, and occupational therapies
Allow valid TRICARE Prime specialty care referrals to transfer to the new duty station during a Permanent Change of Station (PCS)
Implement the Defense Health Board's recommendation to broaden TRICARE's definition of pediatric medical necessity
Align TRICARE Extended Care Health Option (ECHO) respite coverage with Medicaid waiver programs
Protect Impact Aid funding for school districts that are highly-impacted by military-connected students and protect a portion of Impact Aid designated for special needs military-connected students
Case management for EFMP is fragmented, said Hruska. "Sometimes the assistance that is provided is only as good as the person sitting in the seat. For some, it's easier to say 'oh I'm sorry here's a website.' So there are some inconsistencies there."
Rep. Trent Kelly (R-MS) urged DoD to "pay attention" and pushed for immediate solutions. "Our families are too important to have a solution that's in the future," he said. "We have to start making positive strides immediately."
At the end of the hearing, Chairwoman Speier committed to holding town halls with EFMP families. NMFA will continue to lead efforts to improve services and supports for military families with special needs.