You Are Not Alone – Mental Health for Military Spouses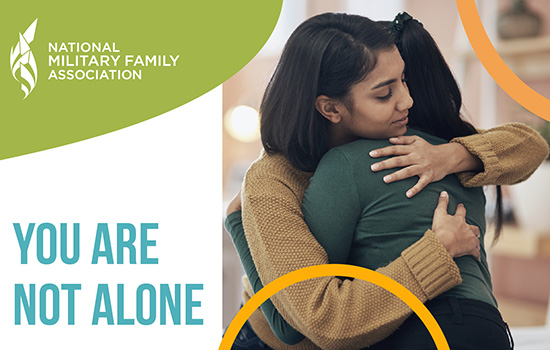 We're introducing a new series just for military spouses called "You Are Not Alone."
Each month we'll explore a new topic chosen by you, then share fantastic resources all in one spot for your reference whenever you need them.
Each May we celebrate Military Spouse Appreciation Day the Friday before Mother's Day, but it's also Mental Health Awareness Month. With everything you do for everyone else, it's so easy to slip into the day-to-day and not even realize you're struggling. So, this month, we hope you'll check in with your mental health. While it seems you might hear about mental health and "self-care" more often than ever, let's dive into what it is, how to know when to seek help, and offer some amazing resources.
What is Mental Health?
MentalHealth.gov states mental health "includes emotional, psychological and social well-being."
It's important to know it's okay to not be okay. You can be happy and sad at the same time because life is full of ups and downs. For military spouses, there are several added layers to the ups and downs: parenting alone, deployments, PCSs, career uncertainty, and so many more.
Here's the good news: no one understands military spouse life like other military spouses! Make sure you join groups to find like-minded military spouses to help share your burden.
Your spouse's unit can connect you with family and spouse groups as well, or a quick online search of official organizations like the USO will show local groups in your area (always make sure these are legitimate groups!). Now that everyone is familiar with online meeting software, you could create your own group of military spouse friends from previous duty stations for a monthly, online hang out!
If, however, simple things and daily tasks feel as if they are becoming too difficult, it's time to check in on your mental health.
When to Reach Out
There is no shame in asking for help. Zero. If you are thinking, "There are so many people who are worse off than me, I don't need help," please understand that YOU are important, YOUR concerns matter, and YOU are worth it. You owe it to yourself and those who love you to take care of yourself.
Know that everyone goes through ups and downs, and we all need help learning how to cope when it feels like life becomes a pressure-cooker. Think of it like folding a fitted sheet: it's a seemingly impossible task but, once you learn how to tackle it, not only does it become more manageable, but you also wonder why it ever seemed impossible.
Speaking with a mental health professional can give you a toolkit to take control of your feelings, emotions, and responses to difficult situations. All you need to do is ask.
How to Get Help
Where do you get help? How do you ask for it? What if you don't even know what to ask for?
You don't have to know what to say or do – if something feels off and you need help, the appropriate resources are trained and ready to meet you where you are. All you have to say is, "I'm looking for mental health services," and they'll take it from there.
As the spouse of a service member, you have ready access to health care services, and that includes mental health. You can start by speaking with your primary care provider to point you in the right direction.
Here are some additional resources:
Get urgent help from Lifeline at 1-800-273-8255 if you are in emotional distress or suicidal crisis
To speak with someone outside the military network but who understands military life, check out Give an Hour
Access 24/7 answers and support through Military OneSource, including free, confidential one-on-one non-medical counseling
Remember, you are not alone. Even if you just moved to a new location and don't know anyone, you have a phone and/or a computer to connect with loved ones no matter how far away they are. You should have some on-base support. You have the resources listed here.
You are strong enough to reach out and worthy of strong mental health, so take care of yourself this month and from now on.
By: Jessica Yost, Content Manager
References:
Mental Health Month | Mental Health America (mhanational.org)
What Is Mental Health? | MentalHealth.gov
Mental Health Services & Education – Give an Hour
The Lifeline and 988: Lifeline (suicidepreventionlifeline.org)