Get Ready: Operation Purple Camp is Coming!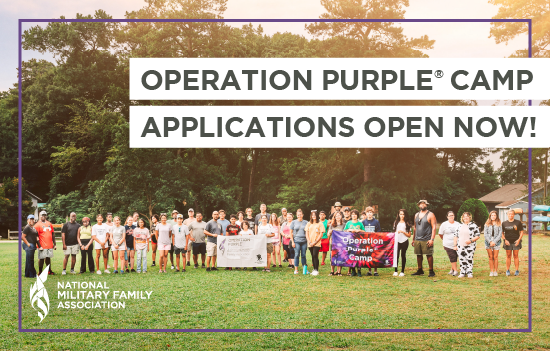 Starting today, Operation Purple® Camp is looking for campers to attend our 2023 camp weeks! We look forward to serving the military community with nine exciting weeks at eight campsite locations around the country this summer. Camp is more than just s'mores and scenic sunsets—it's an amazing experience for your child that will provide memories for years to come.
Military Kids Serve, Too®
As the child of a sailor, I understand how difficult and emotional it can be to change schools. I spent many summers wondering what my new school would be like, if I would make any new friends, or if my friends at our former duty station would stay in contact with me. Operation Purple Camp gives kids a chance to think about something else—an opportunity to celebrate themselves, honor their own service, and have some fun in the sun with new friends.
It can be intimidating for kids and parents alike to go off to a sleepaway summer camp for the first time. In my experience, homesickness disappears on the first full day of camp, when there are so many fun activities and friendships to be made.
The Magic of Camp
Camp gives kids a chance to make choices for themselves in a safe environment. They learn new skills like kayaking and archery and can test their grit and strength on rope courses. With activities like Wall of Honor and Cabin Chats, kids get to express themselves and discuss how their parent's (or parents') service affects and shapes them. They also get to celebrate their resilience and sacrifice.
Operation Purple Camp allows kids to explore what it means to serve in a safe community with peers in similar situations. The magic of camp will make every kid feel less alone once they pack up and go home. They are empowered by knowing they will always have fellow Operation Purple Camp alum friends to connect with wherever they are.
Ready to learn more and apply for your child to attend this summer?
Visit our Operation Purple Camp and apply now.
By: Jaimee Miller, Military Family Programs Coordinator and Navy military kid