Summer Camp Just for Military Kids
Operation Purple® Camp offers military kids a free week of camp where they connect with other kids, just like them.
Children from all uniformed services, including National Guard, Reserve, Space Force, and the Commissioned Corps of the National Oceanic and Atmospheric Administration and United States Public Health Service may apply.
Operation Purple Camp Began
Military Kids Served in-person since 2004
Military Kids Served virtually since 2020
What can my Child Expect at Camp?
When your military child attends Operation Purple Camp, they'll enjoy a true summer camp experience, complete with arts and crafts and outdoor activities, like ropes courses, canoeing, swimming, archery, and climbing walls. Campers will thrive in an environment with fully trained counselors and camp staff experienced in helping children adapt and overcome the stressors of military life.
By meeting kids like them, campers make life-long friends who understand what it's like for a parent to serve in the military. Campers are encouraged to celebrate the sacrifices they make and be proud of their role as a military kid!
Operation Purple Camp at Home
Not close to an Operation Purple Camp location?
Let us introduce you to Operation Purple Camp at Home—the home version of our popular Operation Purple Camp for military kids! That's right: your child will experience the fun and magic of summer camp…from the comfort of home. Campers will receive a special "camp in a box" delivered to their doorstep that includes fun, outdoor gear to use for each day's activities and virtual experiences!
Operation Purple Camp at Home Junior
In 2021, we brought all the fun of our Operation Purple Camp at Home—the virtual version of our popular Operation Purple® Camp – to our youngest military kids and their families!
This fun-filled week of Operation Purple Camp was redesigned for military children ages 3-7 years old and gives campers the chance to learn about the world around them through daily interactive activities, stories, songs, crafts, and fun!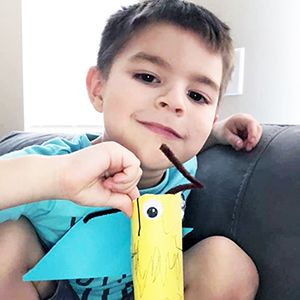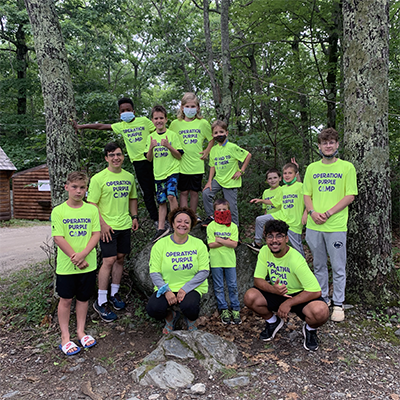 Purple happens to be the perfect mix of Army green, Coast Guard blue, Air Force blue, Marine Corps red, and Navy blue. In the military world, purple symbolizes all who serve, and at our Association, we know military kids serve, too!
Whether campers attend a week of camp at an in-person location, or they experience the magic of summer camp virtually, we know the memories made during our Operation Purple kids' camp program will leave them with memories and experiences they'll never forget.