Hosted by the National Military Family Association
Summer Camp Just for Military Kids because
Military Kids Serve Too®
A Special Week for Building Community, Connections, and Resilience
Operation Purple® Camp offers military kids a free week of camp where they connect with other kids, just like them.
Children from all uniformed services, including National Guard, Reserve, Space Force, and the Commissioned Corps of the National Oceanic and Atmospheric Administration and United States Public Health Service may apply.
A Champion for Military Kids, Spouses + Families for 53 Years
NMFA understands the needs of military families and fights tirelessly to improve their wellbeing. For more than five decades, we have championed the key concept that military kids, spouses, and all family members serve, too.
Our work brings greater recognition that military family well-being is a key component of force readiness–not simply a thoughtful consideration.
Our policy advocacy, award-winning research and insights, along with our direct services strengthen military families' well-being, cultivate their community of support, and empower all family members. Since the Vietnam War, NMFA has been the leading voice of military families–spouses, children, siblings, and parents–all of the people impacted by a loved one's commitment to country, service, and sacrifice.
We advocate for policies that meet key needs, and when we identify important gaps, we stand up our own unique services to fill them–like Operation Purple Camp, which has served nearly 70,000 military kids. At the time they attended camp, 59% of children had a parent who was deployed or were deploying.
Supporting Military Kids' Well-Being
NMFA broke new ground when we commissioned a key Rand study on the mental health of military families coping with multiple deployments. We also convened a first-of-its-kind Blue Ribbon task force of civilian and military leaders to identify intentional and impactful ways to help create ongoing community and connections for a unique population. Task force experts validated a need for Operation Purple programming and its specific approaches.
Building + Growing Community
Military kids move every 2-3 years, and since everyone's mental well-being depends on connection, military kids aren't set up for success. That's where NMFA comes in. We do the research and outreach needed to understand the challenges of military kids. Then we create programs and services to address them. From building community and connection through youth summer camp programs to organizing healing retreats for families to reconnect to helping teens grow their own network of support through Bloom: Empowering the Military Teen.
NMFA advocates for and with military families, and we've been doing it for more than 50 years. We bring the needs of families front and center with military service branch leaders, Department of Defense, and the White House, along with Members of Congress, and other key decision makers. We have a key seat at the table to expand and improve families' health care, education, child care, and an array of other benefits and services. Learn more here.
Operation Purple Camp Began
Military Kids Served in-person since 2004
Military Kids Served virtually since 2020
What a Child's Camp Experience Means
Most military kids live in civilian communities where their peers, neighbors, teachers, health providers, and coaches have little understanding of their experience.
At Operation Purple Camp, they meet kids like them who understand what it's like for a parent to service in the military…and make life-long friends! Campers thrive in an environment with fully trained counselors and camp staff experienced in helping children adapt and overcome the stressors of military life. This is often one of the only touchpoints for kids who do need some extra support to connect with ongoing resources for their mental health.
Campers are encouraged to celebrate the sacrifices they make in ways that make them proud of their role as a military kid!
Operation Purple Camp at Home
For families who are not close to an Operation Purple Camp location, we send the fun to them! Whether a child just moved to a new military base and hasn't made friends yet, or they need a fun activity to do after school, our virtual camps provide a direct connection to kids all over the world.
Military kid campers experience the fun and magic of summer camp…from the comfort of home. Each child receives a special "camp in a box" delivered to their doorstep that includes fun, outdoor gear to use for each day's activities and virtual experiences! They connect with other camps through secure online "cabins" with the guidance of Operation Purple Camp Counselors to cultivate a unique and memorable experience.
Operation Purple Camp at Home Junior
In 2021, we brought all the fun of our Operation Purple Camp at Home—the virtual version of our popular Operation Purple® Camp – to our youngest military kids and their families!
This fun-filled week of Operation Purple Camp was redesigned for military children ages 3-7 years old and gives campers the chance to learn about the world around them through daily interactive activities, stories, songs, crafts, and fun!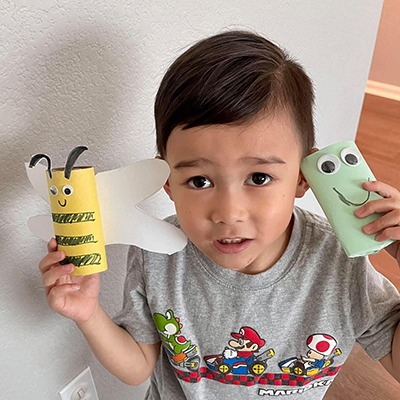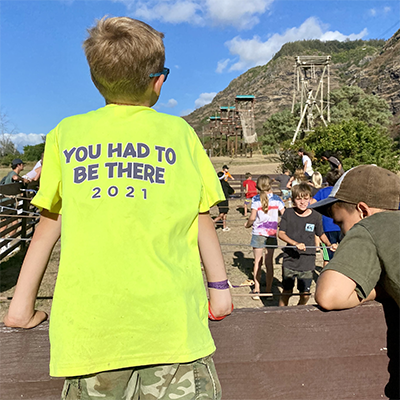 Purple happens to be the perfect mix of Army green, Coast Guard blue, Air Force blue, Marine Corps red, and Navy blue. In the military world, purple symbolizes all who serve, and at our Association, we know military kids serve, too!
Whether campers attend a week of camp at an in-person location, or they experience the magic of summer camp virtually, each child leaves with memories and new friends they'll never forget.