NMFA's 2022 Year in Review: Military Family Programs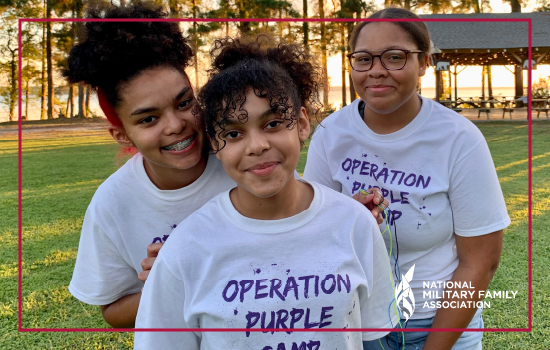 Our work in 2022 continued to bring greater recognition that military family well-being is a key component of force readiness–not simply a thoughtful consideration.
Giving Military Teens a Seat at the Table
In October 2021, the American Academy of Pediatrics, the Children's Health Association, and the American Academy of Child and Adolescent Psychiatry went so far as to declare a "National State of Emergency in Children's Mental Health."
We knew military kids weren't immune.
In 2022, we officially welcomed Bloom: Empowering the Military Teen into the NMFA family. Through military moves, school transitions, deployments, and adolescence, military teens play a critical role in their families and are an important part of our military community. They deserve a seat at the table.
As Bloom continues to grow at NMFA, they have become the authoritative voice of military teens. Through our collaborative annual research on the lives of military teens and, together with our policy experts, our teens have shared their stories at the highest levels. We even hosted a private, round-table conversation with Secretary of Education Miguel Cardona at our State of the Military Family Summit.
This summer, we also launched new programming in response to the support military teens need, including an all-teen Operation Purple Camp, powered by Wounded Warrior Project and two Parent x Teen Experiences designed to cultivate better teen-parent communication and meet the unique needs of our Hidden Helpers—kids of a wounded, ill, or injured service member parent.
Building Community in the Great Outdoors
For families looking for a transformative experience during the summer, NMFA delivered its signature Operation Purple programs with support from partners like Wounded Warrior Project, Lockheed Martin, and USAA. Operation Purple programs connect military kids and families, wherever they are, to others just like them—and in sharing their experiences, they build the kind of community we know they need.
NMFA welcomed 1,449 military kids to Operation Purple Camp at 13 locations across the country. At Operation Purple Camp, military kids enjoy a free week of traditional sleep away camp, make new friends, get outdoors, learn new skills, and build community with children going through the same military life experiences they are.
For families unable to attend Operation Purple Camp in person, we offered our third year of Operation Purple Camp at Home — a unique Operation Purple experience that brings the fun of camp to you, wherever you are. This summer we provided more than 500 military kids ages 3-12 with a one-of-a-kind, virtual camp experience full of song and dance, drumming, martial arts, magic, and so much more. We were joined by military kids from around the world and were thrilled to even travel virtually with some of them during military-mandated PCS moves.
Operation Purple Healing Adventures® brings that community and connection to families of the wounded, ill, and injured. NMFA hosted three Operation Purple Healing Adventures retreats in 2022, providing 217 family members a weekend of fun at camp locations across the country, while also participating in customized programing designed that builds on communication and resiliency skills. Participants connected with other families in a safe space, immersed in the healing properties of nature.
Operation Purple Family Retreats® offer similar programming for families navigating the normal transitions of military life. NMFA welcomed 515 family members to three retreat weekends and four new one-day experiences this year. Participants were able to build community and carry their own growth and transformation as both family members, and part of the family unit with them, when they go back to their daily life.
Our Mission Continues
For more than 50 years, military families have been the focus of our work here at NMFA. Since our humble beginning, where a few military spouses sat around a kitchen table trying to find a way to help their widowed friends, strengthening the family unit continues to be our Association's driving force five decades later.