Month of the Military Child: Time to Celebrate, Time to Listen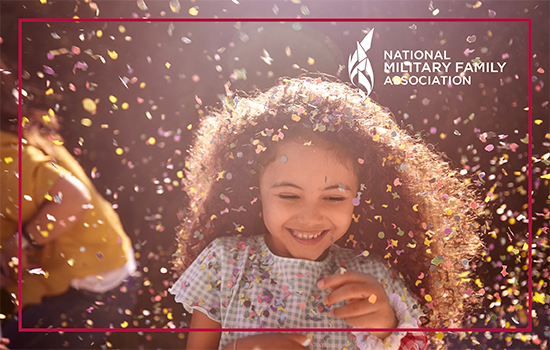 April is the Month of the Military Child—a time designated in America to honor, celebrate, and remember that military kids serve, too! At the National Military Family Association, we work closely with the military community's youngest patriots and tiniest warriors, and we know their sacrifices during a parent's service to our nation gives them the biggest of hearts.
Join us this month to honor them and learn more about the issues they face in their unique form of service.
Military Kids Need Support
According to the Department of Defense, there are 1.6 million children who have one or more parents serving in the military. Many of these kids will change schools an average of nine times before graduation; others haven't known a childhood without war. Reasons like these—and more—are why our Association moves quickly to serve this significant portion of the military family community.
Since 2004, NMFA has hosted Operation Purple® programming to build community and connection for military kids through summer camps, virtual activities, and healing retreats for families. Through these programs and our award-winning research, we have learned military kids want to feel seen, heard, and valued.
Through our Military Teen Experience Survey, we've learned the unique military lifestyle affects military teenagers in areas such as friendships, self-esteem, grades, and sticking to extracurricular activities. Our multi-year research continues to show a direct correlation between a parent's service and a youth's well-being and overall mental health.
Celebrate Military Kids
Despite the struggles inherent to military kids who do not don the military uniform but follow through with permanent change of station orders or hold the home front while a parent is deployed—they continue to be valuable contributors to the military family unit. And what we have learned is that moments of praise and connection can go a long way.
This month, we are celebrating military kids and the ways in which they are resilient through adversity (and we may be giving away a handful of new smartwatches along the way). While prizes, confetti, and high-fives are wonderful this month, let this month serve as a reminder today, tomorrow, and in the future to recognize the role military kids have in the military family—who knows, they may be our next service member and hero in the making!
By: Angela Sablan Tenorio, Content Manager