Dear NMFA: How Can I Support my Spouse and Family This Year?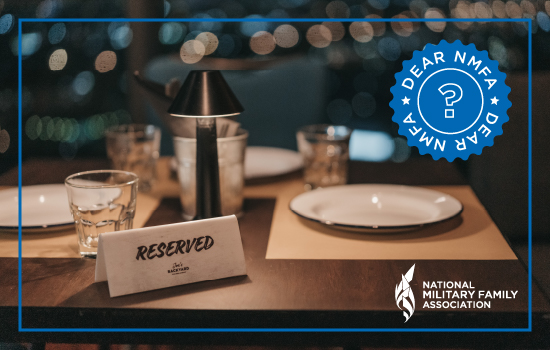 We know military life can be confusing at times. The experts here at NMFA are on your side. You ask the question, and we will find you some answers.  
Dear NMFA—As an active duty Army soldier, it can be challenging to plan date nights or long trips with my spouse and family. Training calendars, field operations, and schools can be unpredictable. Then there are rising costs for goods and entertainment, so our budget also comes into play. With flexibility and budget in mind, what can I do to support my spouse and family this new year?  — Vince
Dear Vince,
Finding leisure time in the midst of hectic schedules can be a challenge. It is even more challenging for service members who have pledged to put our nation's needs above all else. So, with this shared experience for military families, NMFA has gathered some tried and true ideas to help build connections within the home while staying budget-friendly!
Time: The Priceless Gift
Some military spouses share that they lose their self-identity due to the unique military life. Others find themselves as the main family caretaker. Did your spouse take time off from schooling? Maybe they have not engaged in their preferred hobbies or activities in a while. This is the perfect opportunity to offer up a plan so they can do something meaningful for themselves. Setting some time once a week for your spouse to visit a hobby store or read a book can make all the difference for a healthier well-being.
Get Outdoors
Take a small hike or walk around your area. Many military installations have family-friendly hikes and trails that are maintained, several with stadium-sized running tracks and baseball or soccer fields. Fresh air and light exercise welcome family chats and offer up opportunities for encouragement and praise.
Tackle the To-Do List Together
If being outdoors can be a challenge or the distances to malls or stores are not feasible at your duty station, then being present and all-in for activities in the home can be your best bet. Be together while meals are prepared or tackle dishes and laundry as a team. Laugh and chatter as the tasks get completed. Car repairs or grocery shopping can also feel less like it lands on one person's shoulders if it is shared as a family activity or outing. Remember during all this, remain positive and team-focused.
Get the Whole Family Involved

Find some activities your whole family can enjoy. A commitment to watch a tv series together, listen to a podcast, maybe a movie marathon or game night—all these activities can give each family member something to look forward to when the service member is home. And if things must be done virtually, make sure your Wi-Fi is working and your devices are charged! For more ideas, tap into our partners like Sesame Street for Military Families that provide resources and activities to talk about all things unique to the military life.
Remain Present…Always
Our best piece of advice is to make the commitment and choose to prioritize family time alongside your military service. Military leaders would share the same sentiment. Retirement ceremonies always touch on the family aspect, and you will likely hear someone tell you that at the end of your service, it won't be a badge, certificate, or award that will mean the most to you—it will be your family smiling and standing beside you. So in the new year, make your family time count.
Have a question for NMFA? Leave a comment below or share yours on our Facebook page.