Sesame Street for Military Families Empowers Kids Who Serve, Too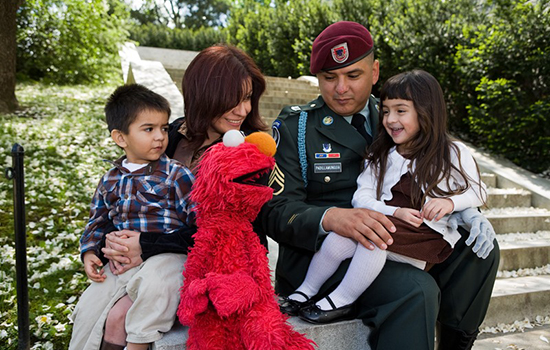 Navigating the realities of military life can be difficult with little ones. Thanks to our partners at Sesame Street for Military Families, educating and empowering military kids can be fun, accessible, and relational.
We know that military kids serve, too®. With the free tools and resources from Sesame Street for Military Families, parents and children can find information, videos, and games about topics related to their military experience that can make that service easier. Their website is available in English and Spanish and covers a wide range of relevant subjects for military families to explore, including deployments, injuries, grief, and relocations and homecomings.
Check out a few of our favorite resources from our friends at Sesame Street:
Deployments
Military Homecomings
Relocation
Self-Expression
Additional Resources
Order free materials and resources for your military children through the Sesame Street for Military Families resource request form.
For a full list of downloadable PDFs, helpful links, mobile apps, and games, click on the links provided or visit the website below.
We're so grateful for our friends at Sesame Street for Military Families and the resources they provide to equip, empower, and educate military children. To learn more, visit https://sesamestreetformilitaryfamilies.org/ or email MilitaryFamilies@sesame.org.
Like and follow @SesameStreetForMilitaryFamilies on Facebook at https://www.facebook.com/SesameStreetForMilitaryFamilies for more updates and information.
One more fun thing: They LOVE highlighting military families on their Facebook page! If you want your family to be featured (what little kid wouldn't love to have Sesame Street highlight them?), visit their Facebook page for more information.