You Are Not Alone: A Roadmap for Our Military Spouses to Pursue Higher Education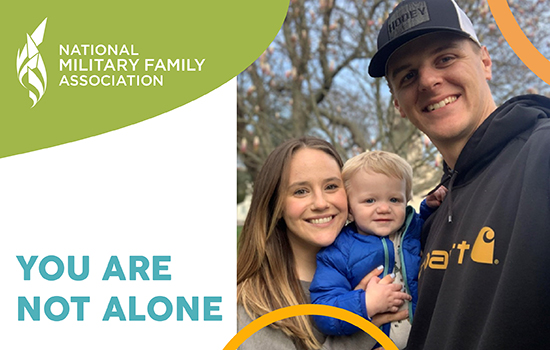 We're back with a new topic for our military spouse series, "You Are Not Alone." Each month we explore a new topic chosen by you, then share fantastic resources in one spot for your reference whenever you need them.
One common thread of discussion for military spouses is finding an identity outside roles like parent, spouse, or caregiver. To find fulfillment outside our roles, many of us try to reinvent ourselves and pursue a career, turn a hobby into a business, or maybe even head back to school—each pursuit causing a pause to draw up the road map to success.
You are truly not alone in these moments of pause. And at NMFA, we know the challenges associated with our military spouses seeking a clear-cut starting point. So here is our road map, just for you, a little 'turn by turn' set of directions to get you on the right path.
Point A to Point B
First, a tune up on getting to know yourself is a great start! Do you wish to go back to school and pursue a college degree or trade? Are you a people person? A natural introvert? A hands-on or audible-only learner? To best select your starting point for higher education or professional certifications like cosmetology or massage therapy, it may be worthwhile to dedicate time and effort to rediscover your passions.
The U.S. News & World Report  Education webpage has an online college major quiz that can shed light on a degree and career path that may fit you. Another option could be a career personality and aptitude test, like the one offered by Psychology Today, that can give you a snapshot of your motivations and learning style.
Now with this arsenal of information, starting applications for a college or trade school would be your next step. And guess what! After you've been accepted or registered to start your journey, NMFA is ready to rev you up and get you going!
Military Spouse Scholarship Program
To help overcome any road bumps that our active duty or retiree military spouses face moving from 'idea' to 'action,' NMFA created a scholarship program to alleviate some financial burdens.
Through NMFA's advocacy and donor relationships, we can award more than $800,000 annually to hundreds of deserving military spouses pursuing career and education goals. Our scholarship recipients use the funding to help pay for their degree programs, licensure exams, certification classes, books, tuition, and even entrepreneurship and small business expenses.
With our year-round application process and quarterly awarding, we've also removed the stress of hard deadlines and cumbersome application processes.
We know the value of pursuing something that fulfills you outside your traditional roles. Blakely, a navy spouse, recently reminded us of the value of our program:
"Thank you for choosing to focus on a group of individuals who wish to chase their dreams but can't always do that like everyone else. Thank you for providing opportunities to spouses to complete classes that they otherwise wouldn't have been able to take because of the cost. Thank you for choosing to invest in my education and career, as I hope to become a Physician Assistant one day."
Braving a New Front
Sometimes we think our other half is the brave one. They get the praise and accolades associated with courage and strength, but let it also ring true for military spouses. We are as resilient and formidable, possessing the same characteristics that make our service members an invaluable part of our armed forces.
Military spouses are as courageous as they come, and NMFA is honored to supply them with the tools to bring their form of heroism to the home front.
By: Angela Sablan Tenorio, Content Manager