TRICARE Young Adult Fix Excluded From NDAA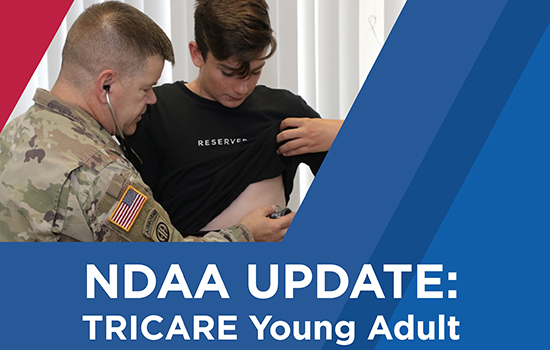 Most Americans get their healthcare through work – and military families are no different, earning their health care benefit through years of service. And while they make many sacrifices to do so, the quality of their health care coverage shouldn't be among them. TRICARE, the military health insurance, should be on par or better than coverage available through commercial plans.
But TRICARE falls short in important ways – and Congress just missed an opportunity to fix that.
The National Military Family Association (NMFA) and the Military Officers Association of America (MOAA) are disappointed that the House Armed Services Committee failed to include a key piece of legislation in the FY 2022 National Defense Authorization Act. H.R. 475, the Health Care Fairness for Military Families Act, would have brought TRICARE in line with commercial insurance plans by automatically covering young adult dependents up to age 26 under their parents' plan.
Military families deserve the same health care protections as their civilian counterparts; it is disheartening that Congress is allowing this inequity to continue.
For more than a decade, commercial insurance plans have been required to cover beneficiaries' young adult dependents up to age 26. As a result, millions of civilian families enjoy the security of knowing their young adult dependents have access to high quality, affordable health care without breaking the bank.
Military families do not have that security.
Because TRICARE is not required to extend coverage to young adult dependents, military families must purchase a separate, premium-based plan to cover them after they reach age 23 – a clear inequity and a financial burden.
"These young adults are the same kids who spent their childhood worried about mom or dad while they were deployed to Iraq and Afghanistan," said Besa Pinchotti, NMFA Executive Director and CEO. "They served alongside their military parents, changing schools over and over again, leaving friends behind—understanding it's all part of military life. They deserve the same access to affordable health coverage their civilian friends have."
"It's time to modernize TRICARE eligibility and bring it on par with commercial plans," added Lt Gen Dana Atkins, USAF (Ret). "Congressionally-directed military health system reforms have meant increased costs for many military families. Reform must also include addressing glaring parity gaps to ensure the TRICARE benefit reflects the extraordinary risks and sacrifices associated with military service and remains an effective recruiting and retention tool."
We are grateful for the leadership of Reps. Elaine Luria (D-VA) and Michael Waltz (R-FL) for acting to address this inequity by introducing the Health Care Fairness for Military Families Act. We are also thankful for the more than 70 Members of Congress who signed on to support this legislation. We're asking Congress to follow their lead and act to end this inequity.
Our military kids have served and sacrificed their entire lives. The least we can do is make sure they have the same health care benefits as their civilian friends.