TRICARE Open Season Begins November 14: Details for Changing Plans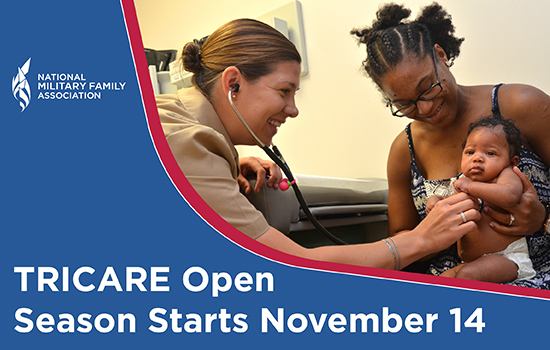 Open Season for TRICARE and the Federal Employees Dental and Vision Plan (FEDVIP) is approaching. This is your annual opportunity to change or add to your family's health, vision, and dental care plans. This year, TRICARE Open Season will run from November 14 through December 13.
TRICARE Health Plans: Prime and Select
The two TRICARE options available for families are Prime and Select. Family members enrolled in Prime are assigned a Primary Care Manager (PCM) either at their local military treatment facility or in the civilian network. They need to obtain a referral from their PCM for specialty care. Select enrollees do not need a referral for specialty care but may incur higher out-of-pocket costs.
How to Change TRICARE Plans
If you decide to switch to a new TRICARE plan, you can do so during Open Season by logging onto milConnect or by calling your regional Managed Care Support Contractor. If you want to stay in your current plan, there is nothing you need to do. Be aware that families can only switch plans during Open Season unless they experience a Qualifying Life Event such as a move, retirement, or the arrival of a new baby.
Vision and Dental Coverage
TRICARE beneficiaries are eligible to enroll in vision coverage through the Federal Employees Dental and Vision Insurance Plan. Retiree families may also obtain dental coverage through FEDVIP. The Federal Benefits Open Season will run from November 14 through December 12 (one day shorter than the TRICARE Open Season.) Visit BENEFEDS to check your eligibility, compare plans, and enroll.
By: Eileen Huck, Senior Government Relations Deputy Director