Threatened Cuts to WIC Program Put Military Families at Risk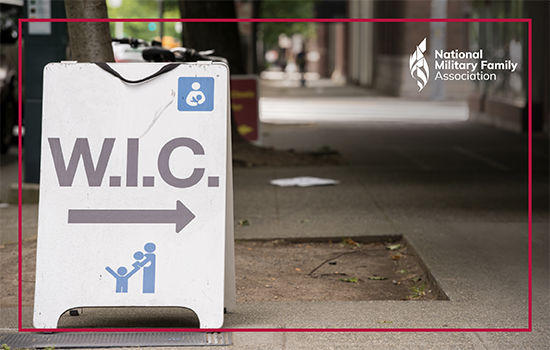 The increased cost of basic necessities like food and housing has left many Americans feeling the pinch—and military families are no exception. In fact, we know that challenges associated with military life, like frequent PCS moves and high spouse unemployment, put many military families under financial strain. At the same time, military families usually live far from extended family or friends, so they have fewer resources to rely on in times of need. Too often, this financial pressure leaves military families wondering whether and how they can put healthy food on the table.
At NMFA, we believe military families should have access to the same social safety net programs their civilian neighbors and friends rely on. One of the most important of those programs is the Special Supplemental Nutrition Program for Women, Infants, and Children, commonly known as WIC.
What is WIC?
WIC offers nutrition support for pregnant and nursing mothers and children up to age 5. WIC provides foods such as bread, cereal, eggs, cheese, and baby formula to eligible families. Participants also are given vouchers to purchase healthy foods such as fruit and vegetables and receive nutrition counseling and breastfeeding support. Enrollment in WIC has been shown to promote infant and child health outcomes, including decreasing infant mortality and low birthweight.
Military Families and WIC
A significant percentage of military families could potentially benefit from WIC. In part, this is due to the demographics of the military community: lots of young families with small children. In addition, unlike other federal nutrition programs like SNAP, Basic Allowance for Housing (BAH) is not included in determining eligibility for WIC, meaning many more military families qualify. Researchers working at a large Army installation in the Southeast estimated that 20 percent of Soldiers at this base meet income and family size requirements to be eligible for the program.
However, despite the many benefits of the WIC program, relatively few military families apply for it. This may partly be due to a lack of awareness—families may not know about WIC or think they could be eligible for it. But for other families, the obstacles to obtaining WIC are often too high to justify the benefit. Participants are often required to apply in person and attend regular in-person nutrition counseling sessions—a barrier for a military spouse juggling work and child care while their service member deploys or works long hours.
We were pleased when the federal government acted in 2021 to make WIC more accessible and valuable to families. Congress increased the value of the fruit and vegetable vouchers families receive to $24 per month for children, $43 for pregnant and postpartum women, and $47 for nursing mothers. Prior to the increase, the vouchers were worth $9 to $11. In addition, the government relaxed the requirement for in-person counseling, allowing participants to attend sessions virtually. Researchers and advocates at installations across the country have launched outreach campaigns to increase military families' awareness of WIC and help them apply. Finally, help started to reach vulnerable families—including military families. And we know it's making a difference.
WIC Program Threatened to Lose Funding
Military families tell us that the WIC program has helped them provide their children with healthy foods, life-saving access to formula, and nutritional education and support.
However, this valuable program is at risk. Thanks to the program improvements, many more low-income families are participating in WIC, so the funding is set to run out. The Biden Administration has requested $1.4 billion to keep the program operating. If Congress does not appropriate the funds, states may be forced to cut WIC benefits or create waiting lists.
This is unacceptable. All families should have the security of knowing that their children have enough to eat, and this is especially true of military families, who serve and sacrifice so much. We know WIC is working to help young military families thrive. We urge Congress to provide the funds needed to continue this much-needed program.
By: Eileen Huck, Government Relations Senior Deputy Director