Thank You Military Families: Past, Present, and Future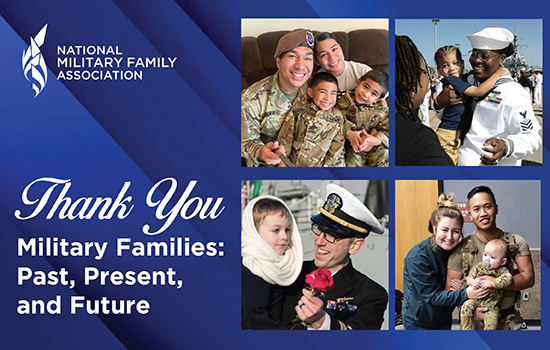 A current resolution sitting in Congress is a proposal to change the saying 'thank you for your service' to 'thank you for our freedom.' While both sentiments are meaningful in acknowledging the sacrifices of those that wear the uniform, an even more significant impact would be to extend a similar thanks to military families. And that is what the month of November is all about, appreciating incredible military families—past, present, and future.
The Past Is Our Blueprint
Thank you to military families who supported service members in a time when communication was limited to postal mail and a few phone calls. It was a time when the National Military Family Association was starting out as meetings of military wives around a kitchen table wanting to support each other. Their efforts became the blueprint for advocacy and support programs, which truly set the path for military families today.
The Present Is Our Why
Thank you to our present-day military families who lead the charge to have their voices heard on all fronts—within military units worldwide, the halls of Congress, and every facet of media. At NMFA, our organization has evolved to support and carry out these voices to fund invaluable programs such as in-person and virtual camps, family retreats, scholarships, and so much more.
We often get to see letters and joyous photos of these efforts, like a message from the Dukes family, who attended a family retreat two months ago.
"Mission accomplished! We bonded as a family and met some other wonderful military families. Thank you so much…for giving us this amazing opportunity to make memories!"
The Future Is Our Promise
Thank you to the future military families who are poised and ready to take on this unique way of life. Together with lawmakers and the Department of Defense, NMFA intends to continue to forge a path of positive and impactful changes, so they'll be empowered for any mission that comes their way.
The military families of tomorrow will continue to possess the pure grit, determination, and resiliency that are so embedded in past and present families. Collectively, they are a force that we shouldn't only be thanking on the month of military families but every day.
By: Angela Sablan Tenorio, Content Manager