Teachers, Massage Therapists, and Cosmetologists: It's Time to Speak Up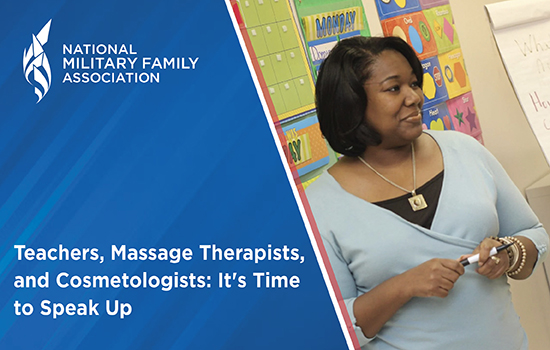 Are you a military spouse who works as a teacher, massage therapist, or cosmetologist – or know someone who is?
Now's the time to provide feedback on the new draft interstate mobility compacts for teachers, massage therapists, and cosmetologists.
The Council of State Governments (CSG) is partnering with the Department of Defense (DoD) and professional bodies to support the mobility of licensed professionals through the development of these three new interstate compacts. The compacts will make life easier for military spouses working in these professions by creating reciprocity among states and reducing the barriers to license portability and employment.
To view the draft compacts and share your feedback by completing a survey and/or participating in a Zoom call, visit the following websites:
Relicensing is a barrier for the more than 30% of military spouses who work in fields that require a state-based professional license or certification. The National Military Family Association welcomes and endorses the development of these occupational interstate compacts, which offer some relief from this burden. For more information and resources on professional licensing and certification, visit our website.