Student Loan Forgiveness: Military Families May Qualify Thanks to This Limited Time Waiver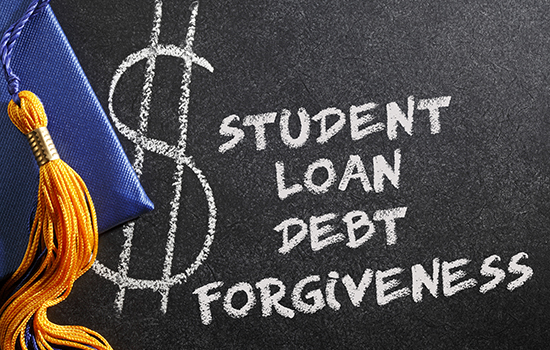 Student loan debt can be a heavy burden for military families.
With the Public Service Loan Forgiveness (PSLF) program, you can erase your federal student loan debt. After working for ten years in a public service while making loan repayments, the balance of your loan will be forgiven.
Until October 31, 2022, temporary changes under the PSLF limited waiver make it easier for service members, family members, and veterans who work on active duty, in government, or a non-profit organization to get their federal student loan debt cancelled through the PSLF. The waiver program can give you credit toward loan forgiveness even if your prior time as a public service worker was previously considered ineligible.
Who is Eligible for Loan Forgiveness?
There are four main requirements to take advantage of the PSLF and erase your student loan debt:
The right type of loan: Only Federal Direct Loans qualify.
If you have a Federal Family Education Loan Program (FFELP) or Perkins loan, it doesn't automatically qualify for PSLF. Borrowers with these loans need to convert them into a Direct Loan first before applying for the PSLF. You can convert your loan by consolidating. If you don't know your loan type, you can verify it at studentaid.gov. Private loans are not eligible for the PSLF.
The right type of repayment plan: An income-driven repayment (IDR) plan.
With an income-driven repayment plan, your loan payments are calculated as a certain percentage of your discretionary income. There is a ten-year standard repayment period, and your payment plan can be as low as $0 per month if your income is below a certain level.
The right type of employment: Work for a public service employer.
This includes government organizations at any level (U.S. federal, state, local, or tribal) – including teachers, public nurses, city employees, and military service; as well as 501(c)(3) non-profit organizations. Serving as a full-time AmeriCorps or Peace Corps volunteer also counts as qualifying employment. You need to be employed full-time, either 30 hours per week, or your employer's definition of full-time. If you work multiple part-time jobs, the hours from these jobs can be combined to meet 30-hour full-time requirement.
The right number of payments: You need to make 120 qualifying payments over ten years to meet the PSLF requirements and have your remaining student loan debt cancelled.
Don't Miss Out on the Limited Time Waiver
Under the normal rules, when you consolidate another loan type into a Direct Loan, the clock is restarted on your ten-year loan payment period for the PSLF. However, under the waiver, you can convert your loan by consolidating and still receive credit for past loan repayments.
You can receive credit towards the 120 payments required for loan forgiveness as long as your loan was not in default. Your loan has to have been in repayment status – even if you didn't make a payment.
The waiver is not automatic – if you have a FFELP or Perkins loan, you need to consolidate this into a direct loan. To do this, make sure you apply by October 31, 2022.
Under the waiver, you can get credit for past payments even if you didn't make the payment on time, didn't pay the full amount due, or weren't on the right repayment plan.
Forbearance periods of 12 consecutive months or greater, or 36 cumulative months or greater will count under the waiver. Months spent in deferment before 2013 will also count under the waiver.
How to Apply
There are three main steps you need to complete:
Check your employer's eligibility. You can check via Federal Student Aid's PSLF Employer Search to verify if any of your employers since 2007 are qualified as public service employers.

If so, then proceed to the next step and consolidate your loans (if required).
If your employer is not listed, but you work for a government or 501(c)(3) non-profit organization, you can likely still qualify.

Consolidate your federal loan. If your loan type is anything other than a Direct Loan, you will need to consolidate.
Certify your employment type with the PSLF form.
This limited waiver opportunity ends soon.
You must apply by October 31, 2022 to take advantage of the temporary changes under the waiver. There will likely be a backlog of applications with delays for processing, but your application will be valid as long as you apply by the deadline. Visit studentaid.gov and use the PSLF Help Tool to check your eligibility and fill in your PSLF form.
Common Issues with Applications
According to the Student Borrower Protection Center, these are common issues you should avoid with your application:
When you consolidate your loan, you should receive credit for your past payments. Some applicants are receiving letters with erroneous information not counting past payments. Ignore this; you should soon receive a new letter.
Don't submit messy paperwork, like forms containing cross-outs and handwritten notes. Your application may be rejected.
If you experience any issues with the application process, you can file a complaint.
Beware of scams. You do not need to pay a third-party private company to apply for the PSLF.
Forbearance and deferment don't count under the PSLF waiver – you must be in a repayment plan.
If you are claiming time for the PSLF under different employers, multiple forms are required. Also, if you ended employment and then restarted later with the same employer, you need to submit multiple forms.

Learn more
You can learn more about the PSLF and the limited waiver at the official website: studentaid.gov. The website ForgiveMyStudentDebt.org (not government-affiliated) also has information and a step-by-step guide on how to apply for loan forgiveness under the PSLF waiver.
By: David Treacher, Government Relations Deputy Director