Service Like No Other: Veterans and Their Families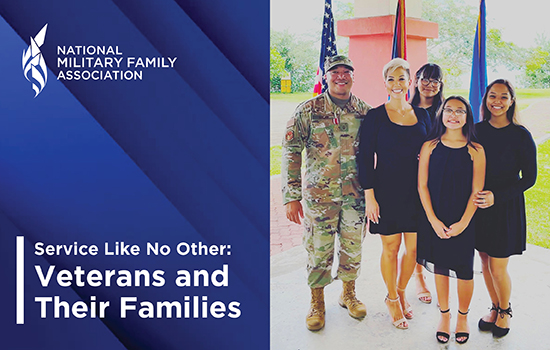 On October 31, President Biden signed a proclamation designating November as National Veterans and Military Families Month. While most take time on November 11 to thank a veteran, at NMFA, we've spent the last 53 years recognizing the tremendous sacrifice and service that our troops and their families make.
Opportunities and Realizations
After serving six years with the Navy, Adam Batimana knew he had fulfilled a life goal.
"When I joined up, I always knew I wanted to take advantage of the Post-9/11 GI Bill to cultivate my talents after service. Or, at the very least, offer it up to my other half," Adam shared. "It is such a beneficial benefit that can impact us both."
Many service members can relate to Adam's sentiment—to serve in the armed forces and make the family proud, all while finding self-development opportunities. And like many veterans, Adam did get additional schooling using the Post-9/11 GI Bill and is now a full-time graphic artist.
Adam's fiancée, Lailanie, could not be any prouder of her veteran and those who take the oath to serve. "Most men and women join the armed forces at a young age, so making that decision to join is a selfless one. And when they start a family of their own and continue to serve, it then becomes a dutiful sacrifice that they and their families make," she explained.
"The family beside the service member is significant," Adam added. "Their job to support is of great importance."
Alongside his son Levi and Lailanie, they continue to adventure to new places just like he did during his time in the Navy.
Grateful For the Family Journey
For other veterans, the military way of life is a journey that evolves through the years. Newly retired Air Force MSgt Tavis Salas recalls how his 21 years of service brought him full circle.
"My time in service was a long stretch, but I was fortunate in many ways," Tavis said. "With my wife and daughters by my side, we met so many friends who have since become family. Together, they gave me that push I needed to accomplish every goal and the goals I continue to set."
Besides goal setting, another characteristic that resonates with veterans, old and new, is pride. Many hold a deep sense of pride in their branch of service and its colors. Many will sport hats and shirts of their branch or showcase memorabilia in their home.
In closing, Tavis exclaimed, "I am thankful to have served as an Airman in the world's greatest Air Power!"
Hats Off to the Entire Military Family!
Every Veterans Day, we honor the service of men and women who have donned the military uniform. Whether they enlisted for a few years or made it a career, one fact remains—they are a part of the selfless 1% of our population that answered the call to serve our country. And as Adam and Tavis have noted, it is all the much sweeter with family by their side.
Military service is a service like no other, and this month of remembrance reminds us of what it means to take the oath to defend and protect and why it is worthwhile, especially with family by your side. As we tip our hats and thank our former and current service members, don't forget to recognize the families that stand beside them.
By: Angela Sablan Tenorio, Content Manager