Road to the 2023 Defense Budget: Putting Military Families First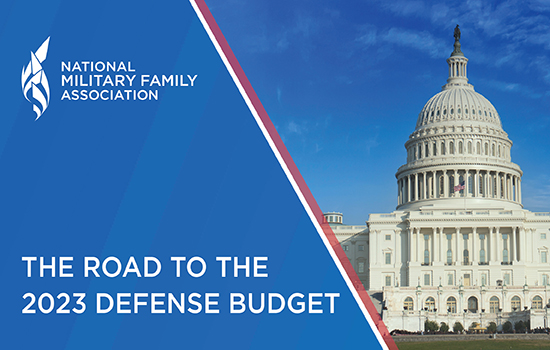 Summer isn't just for PCS and fun. In recent years, it has been the time of year for the House of Representatives and the Senate to shape defense policy for the upcoming fiscal year. And those policies include military families.
In the following weeks, Congress will begin their consideration of the Fiscal Year 2023 National Defense Authorization Act (FY23 NDAA)—the piece of legislation that will affect your family the most. NMFA weighed in with what we believe are the priorities impacting military families before the deliberations began. We asked Congress to prioritize the following issues:
Military Family Food Insecurity
We were thrilled last year when, thanks in part to our advocacy, Congress authorized a new Basic Needs Allowance (BNA) for military families. This allowance, which will provide a temporary, targeted pay boost to families whose incomes and household sizes put them below 130 percent of federal poverty guidelines, will help the most vulnerable military families put food on the table. However, the BNA isn't a perfect solution.
As written, it allows the Secretary of Defense to determine how much, if any, BAH will be counted in determining eligibility for the BNA. We support a provision in the House version of the NDAA which would completely exclude BAH when determining eligibility for BNA, so more military families receive the help they need.
Child Care
When single military parents and dual military parents tell us they cannot access child care, it is a military force readiness issue. There is no silver bullet to solving this crisis, which is why NMFA is advocating for several solutions to increase capacity and ease the financial burden of child care costs.
We recommend the following policy proposals:
Fund public-private partnerships to provide community child care
Establish Dependent Care Flexible Spending Accounts
Increase funding and expand eligibility for Fee Assistance Program
While the Services may never be able to meet the child care needs of every military family, a multi-faceted approach is the best way to solve this longstanding problem. Access to quality, affordable child care is essential to military readiness.
Military Health System
The effects of the COVID-19 pandemic continue to reverberate throughout both the civilian and military health system. Over the past two years, military medical providers have mobilized to support civilian systems caring for waves of COVID patients. At the same time, burnout has led many civilian health care providers to leave the field entirely. The result has been a military health system that is, at times, unable to meet the needs of beneficiaries, and a civilian network straining to pick up the slack.
However, while much is changing within the military health system, military families' needs remain the same: ready access to high quality, low cost health care. To help ensure military families receive the right care from the right provider at the right time, we ask Congress to:
Improve access to mental and behavioral health care
Reduce copays for mental health visits and physical, speech, and occupational therapies.
Align TRICARE with commercial insurance plans by automatically covering young adult dependents up to the age of 26, as required by the Affordable Care Act.
Military Spouse Employment
While progress has been made in some areas, the military spouse unemployment rate remains consistently high at 22 percent, and the COVID-19 pandemic's effects exacerbated the issue, leaving 38 percent of previously employed spouses without jobs. Military spouses continue to face significantly lower earnings as well as higher levels of underemployment than their civilian counterparts, greatly impacting their families' financial stability.  
We encourage Congress to create a target group for military spouses within the Work Opportunity Tax Credit (WOTC), an existing tax credit program designed to aid certain population groups that face significant barriers to employment. Legislation has been introduced in both the House (H.R. 2974) and the Senate (S. 3909) to achieve this. Incentivizing businesses to hire military spouses is an important, necessary step toward ensuring this community has employment opportunities throughout the nation.
You can read our entire letter here.
NMFA will keep you informed as the House and Senate versions of the FY23 NDAA work their way through the process.