NMFA's 2023 Support Of Military Families Awardee: Edith Smith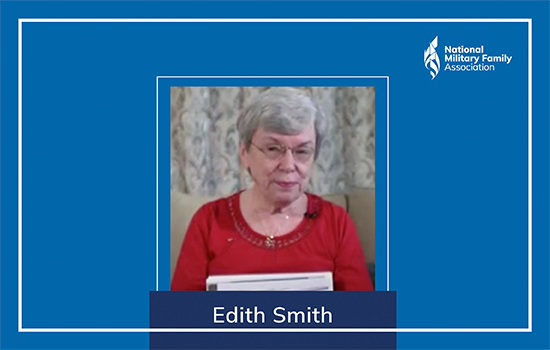 For more than 50 years, the National Military Family Association has kept the concerns and needs of military families at the forefront of everything we do. We are committed to strengthening and protecting the families of the men and women currently serving, retired, wounded, or fallen. Since 1984, we have celebrated those who have joined us in our mission. The Support of Military Families Award honors those individuals and organizations that, through their work or leadership, have made changes that positively affect the lives of America's military families around the globe.
An Advocate, A Spouse, A Trailblazer
"Citizen Advocate." That's how Edith "Edie" Smith described herself in her first testimony before the Senate Armed Services Committee Subcommittee on Personnel in March 1998. The title has changed over the years, but her advocacy on behalf of military families hasn't.
Edie Smith has been a volunteer with NMFA since 1990. She started volunteering to advocate for her husband, a retired LtCol in the Marine Corps whose CHAMPUS (now TRICARE) benefit was terminated in 1989. Her early work centered around health care, but following the death of her husband, she became a passionate advocate for surviving families.
Edie's advocacy has contributed to the elimination of the Social Security offset to the Survivor Benefit Plan and the Widow's Tax. She has worked with countless surviving spouses to ensure they get the benefits they deserve.
Amplifying the Military Family Voice
For Edie, she believes that everyone should know how to work with their elected officials to get something done. She has trained hundreds of military family members to be their best advocates. At 83, she hasn't slowed down. In the past two years, she has worked with a group of Virginia spouses to reverse a decision on property taxes and organize surviving spouses to increase the Dependency and Indemnity Compensation (DIC).
For her efforts to ensure that military families have the benefits they deserve and know how to advocate for them, Edith Smith has earned NMFA's 2023 Support for Military Families award.