NMFA's 2023 Support Of Military Families Awardee: David Nokes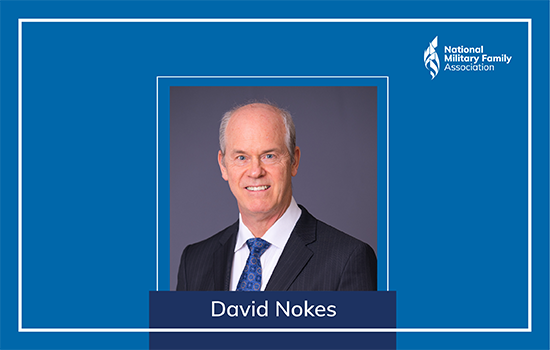 In September, NMFA is honored to recognize three individuals with our Support of Military Families Award. The Support of Military Families Award honors those individuals and organizations that, through their work or leadership, have made changes that positively affect the lives of America's military families around the globe. Our third awardee is David Nokes, a public affairs specialist in the Community Engagement Directorate of the Office of the Assistant to the Secretary of Defense for Public Affairs.
Military Family Conversations at the Highest Levels
David's primary responsibility within the Office of the Secretary of Defense is leading engagements to increase trust, support, and understanding of Department of Defense missions and people among key stakeholders from top military service organizations (MSOs), veteran service organizations (VSOs), military support nonprofits, and military community advocacy groups. He advises senior defense leaders on the contributions of military and veteran support organizations. Most importantly, he facilitates opportunities for meaningful dialogue to support the readiness and well-being of our Nation's service members, veterans, military families, and caregivers.
From Military Service to Service at Our Nation's Capital
David served for 22 years and retired from the Air Force as a Chief Master Sergeant, so it is no surprise that he is passionate about ensuring the voice of the service member and their family is elevated in the Pentagon. While on active duty, David served in the United States Air Force band program. In addition to his work as a vocalist and music arranger, he served in numerous leadership positions at The United States Air Force Band in Washington, D.C.
David listens to our concerns and questions and ensures those questions get to the appropriate offices and are answered. He is a trusted advisor and helps military family advocates navigate the Pentagon. He is our military family advocate inside the Pentagon.
For his efforts to ensure military family perspectives are heard within the Pentagon, David Nokes has earned NMFA's 2023 Support for Military Families award.