NMFA Advocates for Universal Pre-K in OCONUS Locations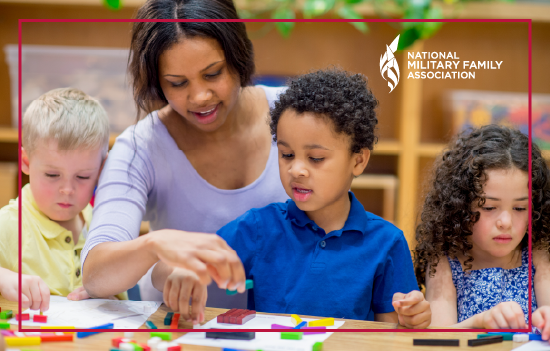 Military families stationed overseas have long faced a lack of child care and early childhood education options. We listened, and in a recent letter to Defense Secretary Lloyd Austin we urged DoD to implement a universal Pre-K program at OCONUS DoDEA schools.
A DoD report estimated that at least 80% of four-year-olds eligible for a Pre-K program at overseas locations were not able to access one due to a lack of available space. While the Sure Start program currently offered by DoDEA provides a full-day of preschool, the spots are limited and eligibility is restricted, prioritizing enlisted service members.
Often, children not enrolled in Pre-K are placed in Child Development Centers (CDCs) on installations. We know from numerous reports that CDCs already have long waitlists and struggle to hire and retain quality staff, especially at overseas locations. While CDCs have made many efforts to include some form of early childhood education in their programs, the high demand for such programs indicates the strong desire from military families to have a universal option wherever they are stationed. Additionally, CDC staff often do not have the same training requirements that teachers in early childhood education have, depriving children of the curriculum their peers enrolled in Pre-K would have.
Spouse employment is also impacted by the lack of options for child care and schooling for four-year-olds. The 2021 Active Duty Spouse Survey showed that the military spouse unemployment rate has been statistically unchanged since 2015 and stands at 21%. Lack of childcare options is cited as the as the primary reason for not being able find and maintain employment. Pre-K programs could help relieve the burden of child care for those families unable to place their four-year-old in CDCs.
"In Summer 2020 through Summer 2022, while serving overseas in Germany, the DoD could not provide pre-kindergarten (Pre-K) education for our two Pre-K school-aged children, which was also true for many of our friends. For one year, our middle child did not have access to Pre-K. Our youngest child did not receive Pre-K services for two years, despite being born prematurely, which gave him a higher priority to the Sure Start program.

The base infrastructure could not support the Pre-K demand signal for the base population (there was a wait list). While DoDEA's Sure Start program helped some families on base, there were not enough seats for all the children that applied.

Not having access to Pre-K was a developmental detriment to our children and affected my and my [wife]'s ability to be involved in the base and surrounding community." — LT COL Bergeron, USAF*
The benefits of early education programs are numerous. According to a Pre-school Feasibility Report done by The Military Family Research Institute, children who were enrolled in Pre-K have greater gains in math and vocabulary skills and greater social competence. These gains can lead to improved preparedness for school in later years. Teachers who are trained in early childhood education instruction have direct and substantial impact on other aspects of child outcomes in early care and education settings, such as the development of academic and literacy skills. Quality Pre-K positively impacts the educational and mental health for children
Access to Pre-Kindergarten programs isn't just beneficial to the child; it supports family financial well-being by giving spouses the option for employment and supports family readiness by supporting job performance, improving retention, and decreasing absenteeism due to child care-related issues.
NMFA will continue working with DoDEA schools on policy options and advocate for families to get access to the same choices for early education as their CONUS and civilian counterparts.
By: Caitlin Hamon, Government Relations Deputy Director
*The views expressed are those of the author and do not reflect the official policy or position of the U.S. Air Force, Department of Defense or the U.S. Government.
We want to hear from you! Tell us your story about how you were positively impacted by access to Pre-K, or how access to a Pre-K program would improve your family's life.