Military Spouse Hiring Act: Congress needs to hear your voice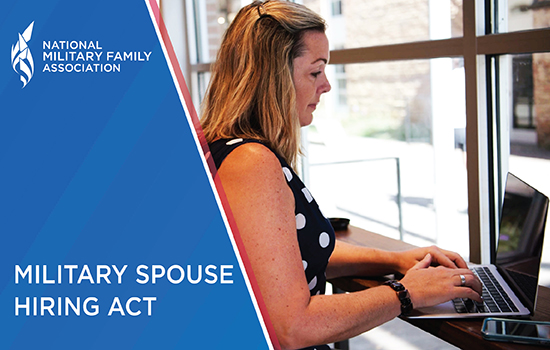 The National Military Family Association needs your help to get Congress to pass key legislation that addresses military spouse unemployment: the Military Spouse Hiring Act.
The military spouse unemployment rate has been shockingly high—22-24% over the past decade, according to the Department of Defense (DoD)—much higher than that of the civilian population. This is due to the challenges associated with the military lifestyle, particularly military mandated-moves every two to three years, significantly affecting spouses' ability to secure and maintain meaningful employment.
The Military Spouse Hiring Act is one of several tools to address the spouse unemployment rate. It will incentivize employers to hire more military spouses via a tax credit for those employers. The bill establishes a new target group for military spouses under the Work Opportunity Tax Credit program, initially created in 1996 to support employment for American job seekers who face high barriers to employment. Under the bill, employers may claim a one-off tax credit of up to $2400 for every military spouse they hire.
The National Military Family Association, together with our friends at the Military Officers Association of America (MOAA) and Hiring Our Heroes, has been working hard with our advocacy to Congress to build support for the Military Spouse Hiring Act. Many legislators have signed on, but more support will be needed to pass these bills.
We know that Representatives and Senators listen to their constituents—hearing from you makes a difference in their support for these bills. Call, email, or write your legislator's office today to tell them you want their support for this legislation. To see if your legislators have already signed on to support the bill, check the cosponsor lists on Congress.gov for both the House bill (H.R. 2974) and the Senate bill (S. 3909). To find your Representative or Senator and how to contact them directly, visit Congress.gov and search by your state or address. You can also submit an automatically prepared email via MOAA's Congressional outreach campaign for the Military Spouse Hiring Act.