Military Families: Is Adoption in the Cards for You?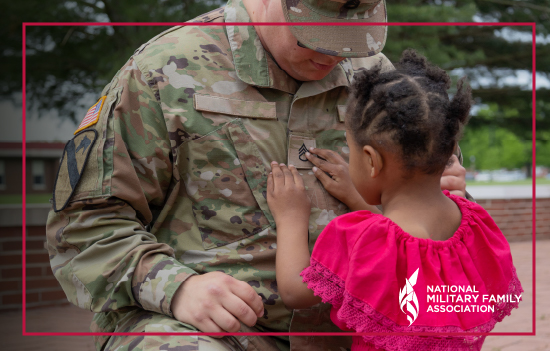 Military families interested in adoption have a full deck of resources available. At National Military Family Association, we provide a starting point for military family adoptions that can help navigate this journey, including how your installation may be able to help and the benefits available to families.
Here are a few things to note if your military family is considering adoption:
Benefits and Entitlements Are Available
Each military branch may have different steps or benefit opportunities for families to take advantage of when adopting. Still, there are two that are standard entitlements available once the adoption is finalized:
Defense Enrollment Eligibility Systems (DEERS): Enrollment into DEERS for an adopted child will require documentation such as a Final Adoption Decree and Social Security Card. Once enrolled, an adopted child is guaranteed the same benefits as any other dependent, including access to health care and child care.
Military Parental Leave: As of January 2023, service members who adopt a minor child are entitled to 12 weeks of leave within the first year of that child's adoption once finalized. Full details of the latest provisions to the Military Parental Leave Program (MPLP) detail the policy and entitlements offered.
Inclusive of changes in DEERS, tax filing would be another update for adding a member to your household. 
Adoptions May Take Time
Marine Corps spouse Lori Brown knew her family possessed the characteristics necessary to be adoptive parents.
"Military families are strong, adaptable, and resourceful," she said, "we have a special skill set."
In addition to being open and willing to adopt, families should also research, connect, and stay resilient in the process, which can take several months to years.
Despite a long wait and their mobile life as a military family—which shouldn't be a barrier to adoption, according to Military OneSource—Lori and her family adopted their daughter Destiny, who they say was a perfect addition to their family of six.
Free Adoption Consultants for Military Families
Military OneSource connects families with an adoption consultant for free. Consultants will tailor and customize their information for your situation and share their knowledge on military adoptions. The wealth of information they can provide includes what you can expect in the process and military financial assistance.
While this article summarizes key points on military adoptions, it is important to note that researching and vetting any consultants is extremely important. When opening your heart, mind, and possibly your wallet, take heed and go with reputable sources.
We know military families know a thing or two about resilience and the strength of family bonds. Under all those layers of fortitude are care, empathy, and love—the perfect blend of welcoming a new member into a family and home.
If adoption is in the cards for you and your family, tell us about it and share it below.
By: Angela Sablan Tenorio, Content Manager