Memorial Day Through the Eyes of Military Families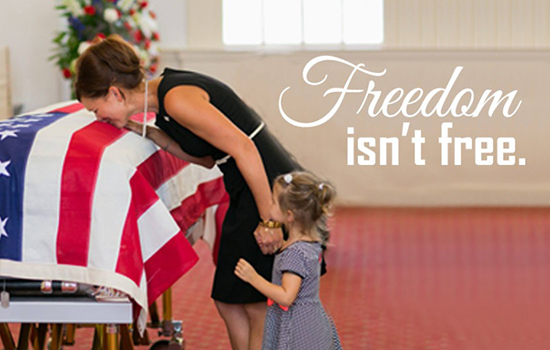 Memorial Day means very different things to different people. Just like with anything in life, our experiences weave a tapestry through which we see the world. For some, Memorial Day is like any other—not because it's a random Monday in May, but because for them, every day is spent remembering those they have lost in service to their country.
For those who are forced to live every day in remembrance, it's not "Happy Memorial Day!" or "Thank you for your service" day.
Instead, this Memorial Day, let's pause to remember not only the people behind the names on a tombstone, but also the families torn apart and left to carry on. Not in a sad way, although Memorial Day can be excruciatingly sad, but in awe and celebration of those who gave their lives in pursuit of values they believed in.
Krissy, whose husband was killed while serving in Afghanistan, said, "I hope through our family's loss, and David's sacrifice, that people will pause and reflect that freedom is not free."
While gold stars are great rewards in elementary school, no one wants to become a Gold Star family member. This is the designation given to families who have lost loved ones to war. Still, they persevere through their grief to live full lives and accomplish amazing things.
Take, for example, Gold Star wife Antonette, who lost her husband when his helicopter was shot down. Left to care for two small children, she said, "I imagined…I wouldn't be able to handle it. I'm amazed, I guess, at what I'm capable of."
Please join us in supporting that resilience as well as remembering those we've lost this Memorial Day.
By: Jessica Yost, Content Manager