Latest Child Care Provisions Show Promise for Military Families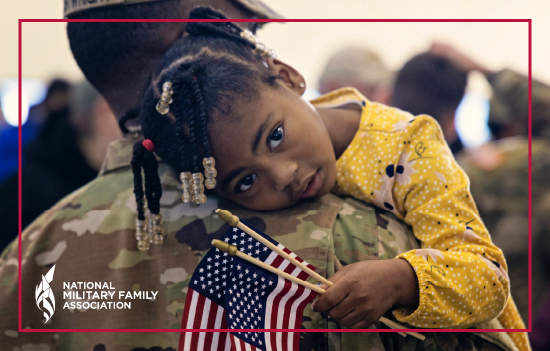 Military families have been telling us for years about how hard it can be to find affordable, high-quality child care. We get it. Childcare isn't just a "nice to have"—it's critical to allowing service members and spouses to do their jobs. It can affect financial stability, and even factor into a family's decision to stay in the military.
As the voice for your military family, we've taken your concerns to policymakers in the Department of Defense (DoD) and in Congress, and they listened. Recently adopted DoD policies and provisions in this year's National Defense Authorization Act (NDAA) are geared toward making it easier for families to find and afford high quality childcare.
Here's what you need to know.
Child Care During a PCS
Too often, military families find themselves at the bottom of the waiting list at their installation Child Development Center (CDC) after a PCS move. The Fiscal Year 2023 NDAA creates a pilot program that reimburses families for child care costs when they are unable to access care from a CDC within 30 days following a move. We're encouraged by this development, however past reimbursement policies have taken a long time to implement. We hope to see this program implemented quickly and efficiently so families can make the most use of the benefit.
In-Home Child Care Pilot Program
The pilot program for in-home child care was recently expanded from five regions to 11. The program, which offers fee assistance to families caring for children in their homes, is extremely helpful for service members on shift work, military exercises, long work hours outside of normal CDC operating times, or isolated bases where community care options are not available. While the growth of this program is promising, there are still reports from families that the long application process as well as the lengthy background checks required by the DoD can deter or delay access to a provider. We will continue to support expansion of this program and call on Congress and DoD this year to streamline the hiring process and approving providers while still performing background checks to ensure children's safety.
Promotion of Child Care Programs
While DoD offers a variety of child care options, there are still families who are not aware of the programs offered by the military. The NDAA includes a requirement for the service secretaries to promote "certain child care assistance." While no specifics are given, there is potential to become a valuable tool for the services in helping families understand what options are available to them. An office or program knowledgeable about the child care programs assigned to educating and guiding families is one way this could be achieved. Such an office could provide resources and empower families to understand what is available at each duty station, while sharing best practices for selecting providers.
Reduced Child Care Costs for CDC Employees
Many times, a lack of installation child care isn't due to a lack of facilities—it's caused by a lack of staff. Offering reduced price child care to CDC employees reduces a barrier to employment and provides an incentive for qualified staff to work at the CDC. The NDAA codifies a policy already in place in many locations by mandating at least a 50% discount for the first child of CDC employees.
Improvements to the MCCYN/Plus Program
The Military Child Care in Your Neighborhood (MCCYN)/Plus Program was designed to increase the pool of providers eligible to participate in the fee assistance program. This program was originally available in Virginia, Maryland, Nevada and Washington. In late 2022, DoD expanded the program to Miami-Dade County, FL, Texas, and Colorado. The NDAA also requires the service secretaries to publicly provide quarterly updates on the MCCYN/Plus program by state, zip code, and service, which will help families find eligible providers.
While these improvements are encouraging, we know that none of these new programs will fully address military families' child care needs. We will continue to push Congress and DoD to ensure families have safe, quality child care options which suit the unique needs of the military lifestyle. Some of our top child care priorities are:
Establish Dependent Care Flex Spending Accounts for servicemembers,
Fund public/private partnerships or remove barriers within the services to establishing community partnerships
Provide appropriate funding for staffing and maintaining a CDC facility
Ensure the pay scales for CDC staff are comparable with the level, skill, and responsibility required for competitive salaries offered by civilian employers.
Allow au pairs and foreign-born family members to participate in the in-home child care pilot.
By: Caitlin Hamon, Government Relations Deputy Director