It's the Most Wonderful Time of the Year: Military Family Month!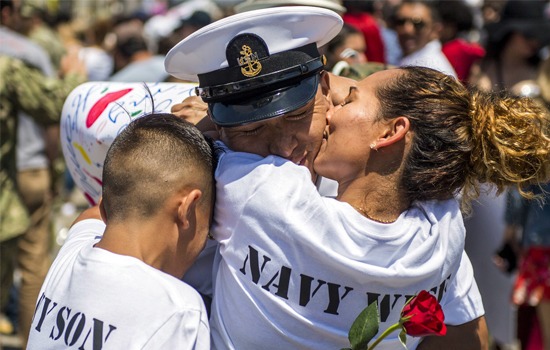 Each year, the President of the United States proclaims November as Military Family Month, a time to graciously reflect on and honor the contributions and sacrifices made by the family members of our nation's military.
At the National Military Family Association, each month of the year is a chance to recognize and appreciate the ones who keep the home fires burning, serving silently behind the uniform.
Military families face challenges unknown to most of the nation. From frequent deployments to long separations and multiple moves, military families bear the burden of service in every aspect of their lives.
Spouses of service members face underemployment and a staggering 24% unemployment rate due to the demands of military life. Education is put on hold, careers are hindered in support of their loved one's dedication to this nation.
Military children face their own hurdles, too. With frequent changes in their serving parent's duty station, they become nomads, moving an average of nine times before they graduate high school. With each move comes the hurdles of making new friends, establishing relationships with new teachers, and being the 'new kid' in every aspect of their young lives.
Even during our nation's longest war, military families continue to charge into the future with hope, strength, and resiliency. With their courage and commitment, America's brave men and women in uniform successfully focus on and achieve mission readiness and victory in battle.
This month, we are proud to honor those who stand behind the uniform. Their strength, resiliency, and support make them the unsung heroes of our nation.
See how NMFA supports military families year-round, and how you can be a part of it.