Inexpensive Holiday Crafts for Military Families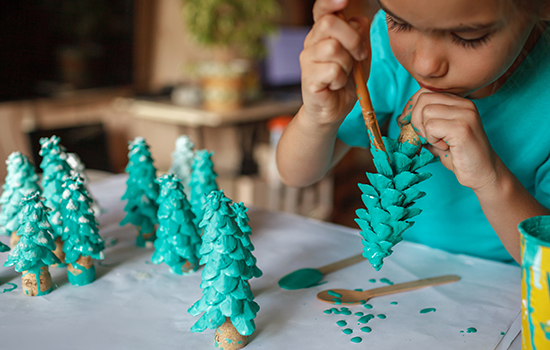 The elves are on the shelves…so you know what that means: the holiday season is in full swing! If you're like me, you tried your hand at a lot of crafts, baking, and DIYing during this pandemic. It's only right that we continue Martha Stewart-ing for the holidays.
This summer, NMFA launched Operation Purple at Home, a brand-new virtual summer camp experience, where thousands of military families participated in fun and unique activities and crafts…just like at camp. They created American flags from things they found in nature, curated an art museum in their homes, and built bridges from cardboard to see how much weight it could hold. Our Operation Purple at Home families were pro DIYers and crafters!
Now that the holidays are here, our friends at GEICO are sharing a few inexpensive holiday crafts for families to do together. (Inexpensive? Sign me up!)
Paper Snowflakes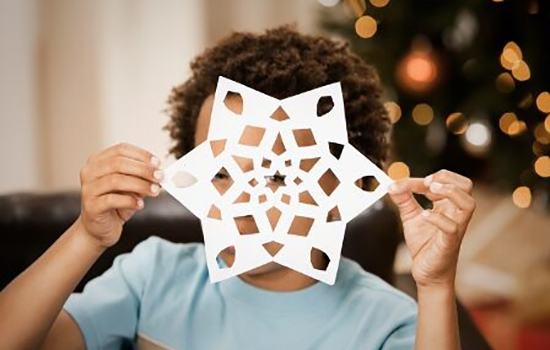 Not everyone is lucky enough to live in a winter wonderland. If your local climate is more suited for swimming than skiing, you can still make it snow inside by cutting paper snowflakes. Here's a quick how-to: Fold a square piece of paper in half diagonally, forming a triangle. Then, fold the triangle in half again, making an even smaller one. Fold this triangle into thirds, and cut across the bottom of the paper, lopping off the pointed edges. Cut designs into the folded papers, unfold it, and you're left with a lacy piece of paper that looks just like the precipitation you wish would fall outside.
An Unexpected Garland
This year, skip the evergreen branches, and fashion a garland using unexpected source materials. Using thread and a needle, string cranberries and popcorn together, or try hanging old light bulbs, pieces of bunched-up fabric, decorative paper, crocheted decorations, or dried fruits. The options are endless.
Pomander Balls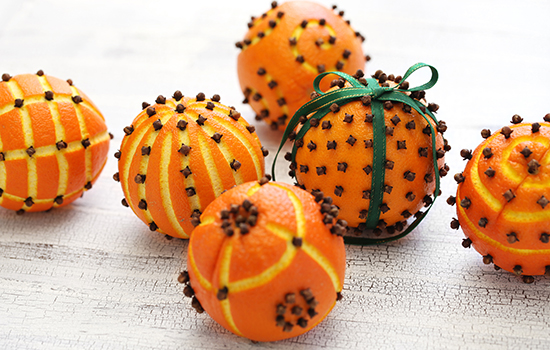 This Christmas craft is a throwback to Colonial times. Early America didn't have Christmas trees that they decorated with tinsel and baubles. Instead, those that observed the holiday likely festooned their homes with greenery. They did, however, make pomander balls—a spicy decoration that made the entire room smell good. To make your own, simply pierce a small piece of fruit—like an apple, a lemon or orange—with cloves until its surface is completely covered and let it dry. Tie a ribbon around the finished product and hang it from a mantel or tree.
Check out these other 8 inexpensive craft ideas from our friends at GEICO and try them out with your family this year! Loving your creation? Share it with us on the NMFA Facebook Page!