How WIC and SNAP Can Help Your Military Family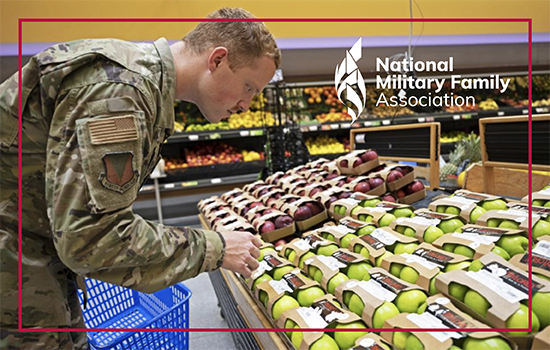 At the National Military Family Association, we strongly believe no military family should ever struggle financially. Military families serve and sacrifice so much; they should never have to worry about making ends meet.
But we also know that life happens.
Maybe a PCS move caused a military spouse to lose their job, and work is scarce in the new location. Maybe the arrival of a new baby strained the family budget. For most of us, there will be times when we feel financial stress. When that happens, it's important for your military family to know about available resources to support you. Among those resources are federal nutrition assistance programs like WIC and SNAP.
What is WIC?
The Special Supplemental Nutrition Program for Women, Infants and Children (WIC) supports pregnant or postpartum women and families with children up to age five. Families enrolled in WIC receive supplemental food, information on nutrition and healthy eating, and lactation support.
WIC Eligibility
Eligibility for the program is based on your household income. Because BAH is not included in determining WIC eligibility, many military families are eligible for this program. WIC is administered by the states, so to find out if you are eligible and apply, you will have to contact your local or state agency to set an appointment. Many WIC offices are located on or near military installations.
WIC Can be Used OCONUS, too!
Military families stationed outside the United States may be eligible for WIC Overseas – a program that was set up thanks to NMFA's advocacy! WIC Overseas participants receive vouchers they can use at their local commissary or Exchange to purchase nutritious foods. You can visit your local WIC Overseas program office to find out more and apply. Families who receive WIC in the United States automatically qualify for WIC Overseas.
What is SNAP?
The Supplemental Nutrition Assistance Program (SNAP), formerly known as food stamps, provides eligible families with nutrition benefits. SNAP participants receive money to purchase food on a preloaded Electronic Benefits Transfer (EBT) card.
SNAP Eligibility
Unlike WIC, SNAP includes BAH in determining eligibility, so most military families will not qualify. However, under certain circumstances, such as if a member of your household is elderly or disabled, the income limits are higher. To find out if you are eligible for SNAP and to apply, contact your local SNAP office.
At NMFA, we believe that more military families should be able to access SNAP in order to help put healthy food on the table. We've pushed Congress to exclude BAH from SNAP income calculations so more military families can take advantage of this valuable benefit.
Financial challenges are part of life, but every military family deserves the peace of mind that comes from knowing they can put healthy food on the table. Federal nutrition support programs like SNAP and WIC are there to help.
Have you ever applied for SNAP or WIC benefits? How did those programs help your military family? Share your story with us!