From Military Child to Military Spouse – How Patriot Day Serves as a Pledge to Remember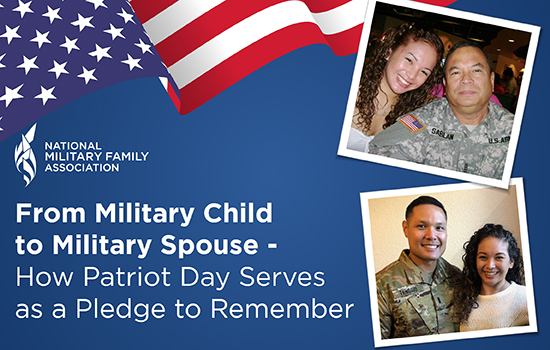 In August 2001, my senior year of high school, I remember a teacher leading a discussion on pivotal moments in history. She said there would come a time when each one of us would experience an event that would leave us remembering every moment; where we were, what we were doing, how we felt. She said for her and her family, it was the assassination of President John F. Kennedy. The class blurted out other events: the bombing of Pearl Harbor, the sinking of the Titanic, and the moon landing. Little did we know just a month later, we would experience an event of significant impact on our country.
I attended the Department of Defense Education Activity (DoDEA) Guam High School. My classmates came from dominantly Navy and Air Force families. In Guam, a United States territory and hours ahead of the mainland, the events of September 11 unfolded the morning of September 12. It is a day and time ingrained in my mind because I was racing with my brother, who was a sophomore, to grab the first early morning shower. We had a television in our dining area, so it was typical for my mom to have it on a morning news show. When I first woke up, she mentioned an accident involving a plane and a building, but as soon as the second plane hit the second tower—she let out an eerie scream with a sense of panic I will never forget.
Seeing the images on the television screen made no sense to me. I could not truly grasp the magnitude of it all and what it meant: our country was under attack. My brother and I walked to our school bus pick-up spot for a bus that never arrived. We walked back home confused, and when we arrived, our mom was trying to get through to the school front office with no luck. My father, an active-duty warrant officer with the Army National Guard, was already at work and fielding calls.
I had classmates whose parents were immediately called to duty on a ship, submarine, or the Naval and Air Force base. Base security was heightened with gate access lines so long it spanned miles. School was out the whole week. I remember the quietness of the halls, the solemn look on the faces of all the adults, and the intercom message that had the entire school starting off the day with the Pledge of Allegiance.
Then and Now
This year is my 20th high school reunion, and looking back, despite the heaviness that came with September 11, I graduated with a class more unified than ever before. As we were coming of age and celebrating the last days of our youth, we were also entering a time where patriotism and enlisting in the armed forces were reaching new heights. Several classmates followed in a parent's footsteps and joined a military branch.
There is a deep-rooted tradition of serving in my family, too. My father followed in the footsteps of his father. Two of my brothers actively serve, as well as my husband. From mission to mission, base to base, military families just like mine know all about the call of duty.
As a military spouse who has seen two deployments come and go, Patriot Day will always serve as my reminder that freedom comes from those willing to fight it for us.
Generations before me have seen the Vietnam War and Operation Desert Storm. For my lifetime, the events of September 11, 2001, will always be remembered as the day my high school teacher spoke of—the day you will never forget. It propelled our country into what we now know as our country's longest war. We have seen Operation Enduring Freedom and New Dawn, and all those in between and that follow. There have been thousands of lives lost. This Patriot Day, let's keep that in mind. Take a moment to pause and reflect on those that serve and have served, for the lives lost on 9/11, for our first responders, the victims, and survivors. Let our somber and heartfelt spirits pledge to honor them on their commemorative day and into the future.
By: Angela Sablan Tenorio, Content Manager