Donor Spotlight: Fisher House Foundation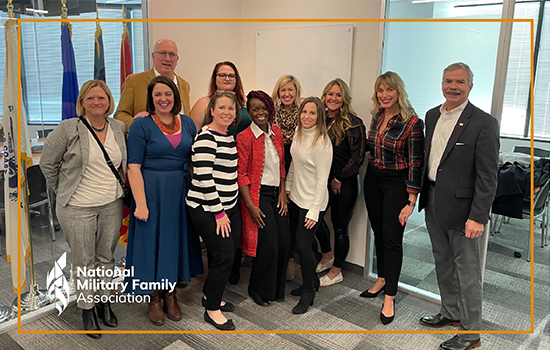 Each of our generous donors and partners have a special story for why they choose to support military families through NMFA. We are honored to share these stories with you.
Fisher House Foundation is in the business of opening doors for military families—and not just to its more than 94 "Fisher Houses" around the world.
Since 2008, Fisher House Foundation has opened the doors to professional and educational success for 2,300 military spouses through NMFA's Military Spouse Education and Employment Program. Our Association has awarded more than $7,580,000 in scholarships to 7,620 deserving military spouses in pursuit of their professional and educational goals with almost one-third of these scholarships powered by Fisher House Foundation.
Why is this initiative important to military families? Because the Military Spouse Education and Employment Program bridges the gap to meaningful careers for military spouses. Over the years, feedback from recipients have painted a multifaceted picture of the challenges of launching a career while balancing the commitments of military life—which may include caring for a service member who has been wounded, ill, or injured.
Fueled in part by Fisher House Foundation, the program has since expanded to include support for vocational training, graduate degrees, professional licenses and certifications, funding for military spouse-owned businesses, and reimbursements for associated child care costs.
Julie Falls, retired Air Force spouse and NMFA Program Manager, shares why awarding military spouse scholarships with Fisher House Foundation has been so rewarding.
"Working side by side with Fisher House Foundation, an organization that stands with military families through times of jubilation and times of sorrow, brings me such gratitude," she shared. "Fisher House Foundation stood with my family and supported us through one of the most difficult times in our lives. I feel so grateful to now stand side by side with them to offer hope, recognition, and support for military spouses as they strive to complete their educational and career goals." 
Each year, NMFA and Fisher House Foundation host a luncheon to celebrate with their newest class of scholarship recipients. Spouses have the opportunity to share their stories and future goals.
Suzanne S., a 2022 scholarship recipient, said, "This recognition is about so much more than the scholarship. For me, it's extremely validating and makes me feel supported in so many ways."
Since 1990, Fisher House Foundation has built comfort homes at military and VA medical centers around the world. These homes welcome military and veteran families to stay free of charge while a loved one is in the hospital. Since inception, the program has served more than 455,000 families, saving them an estimated $575 million in out-of-pocket costs for lodging and transportation.
NMFA thanks Fisher House Foundation for their committed partnership in expanding the impact of the Military Spouse Employment and Education Program. Each scholarship represents the gift of opportunity for military spouses to change their lives, their families' lives, and their communities' lives for the better.
Learn more about Fisher House Foundation.