Do You Have Questions About the Flu Vaccine? We Have Answers!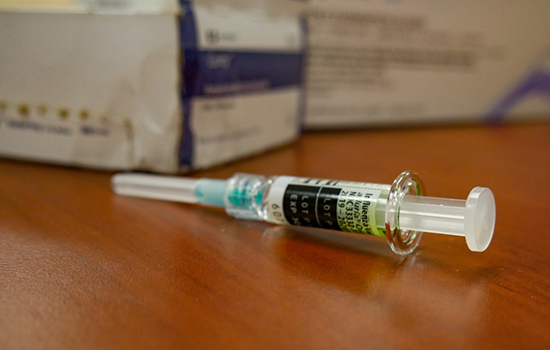 We all want to do everything we can to keep our families safe and healthy. But with so much conflicting information, it can be hard to know what to do. As flu season approaches, many military families are asking whether the flu vaccine is the right choice for them.
At NMFA, we are not medical experts, but we know people who are.
To answer military families' most pressing questions about flu vaccines, we asked LTC Christopher Ellison, the Defense Health Agency's lead for the DoD Flu Program. Read what he had to say below.
Q: Why should my family and I get our flu shots? Is there a reason why it's especially important this year?
A: This year it's really important for as many people to get the flu shot as possible, for several reasons. The first is the ongoing coronavirus pandemic. The flu vaccine won't keep you from contracting Covid-19, but it lessens the chance that you'll get sick with the flu and have to visit a health care provider—where your risk of exposure to Covid-19 is high. We also want to reduce the burden on an already overwhelmed health care system.
Last year's flu season was very mild, in part because we were all mask-wearing and social distancing. As restrictions ease and we start getting back together again, the flu virus will have more chance to circulate. But since fewer people were exposed to flu last year, we didn't build up the same levels of immunity, meaning more people may be at risk. Getting the flu vaccine is the best way to protect yourself and your family.
Q: Is the flu shot safe for young children? What about family members with underlying health conditions?
A: Absolutely! Studies from around the world have evaluated the safety of the flu vaccine for kids. They have been found to be safe, with no serious adverse, or bad, reactions in an overwhelming majority of cases.  Just like any other medical product people can have a serious reaction or severe allergic reactions to the flu vaccine, but that happens very rarely, on the order of one in a million shots.  Most commonly, kids will experience pain or redness at the injection site. They might also have very mild flu-like symptoms such as headache or fatigue. These side effects are usually mild and very short-lived.
Not only is the flu shot safe, but it is also the best way to keep children safe from the flu. Everyone six months of age and older should get the flu vaccine.
Certain family members with underlying health conditions are at higher risk for infection or complications from the flu including those over 65 years of age, those with asthma, heart disease, diabetes, suppressed immune systems, kidney disease, and a few others. It is especially important for you to get a flu shot if you are at higher risk for developing flu complications.
Q: What about pregnant women or new moms? Is the flu shot safe for them?
A: Flu shots are important for those who are pregnant and post-partum. Data shows the flu vaccine is safe during pregnancy and is important because pregnant people are at higher risk of getting severe flu due to changes in many of the body's systems. The flu vaccine helps protect the baby from the flu even after they are born, thanks to antibodies passed along from the mother to the baby.
Q: Can I get the flu shot at the same time as another vaccine? Is that safe?
A: Yes, it is safe to get the flu shot at the same time as any other live or inactivated vaccine including COVID-19 vaccine.
Q: Where can my military family get the flu vaccine?
A: Flu shots may have already arrived at your Military Treatment Facility (MTF). Flu vaccine distribution started in late August this season and they are moving out faster than they have in the last five years. Shipments are going out on a rolling basis, so it's best to check with your local MTF to see if they have it available. You can also go to a participating TRICARE network pharmacy to receive the flu shot free of charge.