Career and Education: A Military Spouse Edition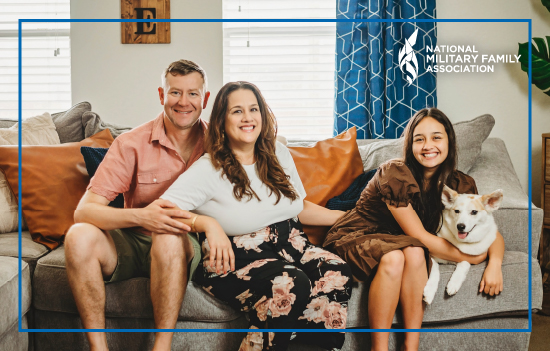 Ready to pursue that business venture you've been pondering? Are you looking to return to school to pursue a degree or professional certification that can help your family financially? At NMFA, we know the military life can throw in a few hiccups that make starting the process toward business ownership or higher education challenging. We are here to tell you it is possible.
We've gathered our best resources for you to feel confident, prepared, and supported in making your professional dreams a reality.
Business Start Up
We know the job market is tough for military spouses, especially with moving every 3-4 years. Add on factors like finding childcare that is usually running a waitlist at any given military installation or making a salary contingent with a degree and experience—it can feel hopeless. For some military spouses, the solution is entrepreneurship.
For Army spouse Selena Conmackie, business ownership was the way to go. Her first PCS move would pull her away from a 20-year career in sales and marketing, a career that she had worked hard to build in her home state.
"When we moved to Fort Polk, LA from bustling Honolulu, HI, it was very different," she shared. "Fort Polk was an older town, more rural than anything, with nothing that matched my experience."
Feeling overqualified for what was available in and around the military gates, Selena turned to an old passion.
"I stumbled back into my mommy blog and went into writing and social media," she said. "It opened the opportunity to manage a restaurant's social pages & website, and my business evolved from there."
For Selena and many spouses like her, this story is commonplace. As a result, a network of resources exists to bridge the entrepreneur spirit with tangible help:
Small Business Association (SBA) – The SBA's Office of Veterans Business Development (OVBD) empowers military spouse entrepreneurs and business owners by providing a variety of resources. These free resources provide the same SBA led entrepreneurial programs offered to service members and veterans. See if the SBA is hosting an informational session on your military installation to get started.
Association of Military Spouse Entrepreneurs (AMSE)– An exclusive community that supports and educates military spouses ready to start their businesses. AMSE offers free membership to military spouses as well as a paid membership with access to additional resources.
Military Spouse Chamber of Commerce– Get free access to finance, legal, and educational resources to help launch and grow your business.

Spouse Scholarships for Degrees and Certifications
The challenges that military spouses face to start at a university, community college, or a specialized school may be similar to those who are pursing business dreams, but access to funding through scholarships may be a bit easier.
Through NMFA's spouse scholarship program, military spouses can apply for funding to help pay for books, tuition, licensure exams, and degree programs. Since 2004 we have been able to help over 8,000 spouses and award over 8.2M in scholarship money.
Our scholarship program is also inclusive of partnerships that make it an even smoother process:
University of Maryland Global Campus (UMGC) Pillars of Strength offers two unique opportunities:

UMGC-NMFA Scholarship –Awards a minimum of 10 scholarships, worth up to $1,500 each, through NMFA to spouses of active-duty, Reservist, and/or National Guard servicemembers.
Scholarship for Caregivers– A full ride scholarship opportunity for caregivers of our nation's service members and veterans who become wounded, injured or ill in the line-of-duty on-or-after September 11, 2001.

Webster University: Military spouses verified through NMFA receive a special military tuition rate on top of scholarship opportunities.
Supporting Military Spouses
Understanding military families is key to the work that we do here at NMFA and that includes supporting military spouses in career and education pursuits. As we continue our efforts to expand programs and create partnerships, share your story with us. Together, our voices can enhance the quality of life for every military family.
By: Angela Sablan Tenorio, Content Manager