CAN I FOLLOW MY SERVICE MEMBER WITH UNACCOMPANIED ORDERS?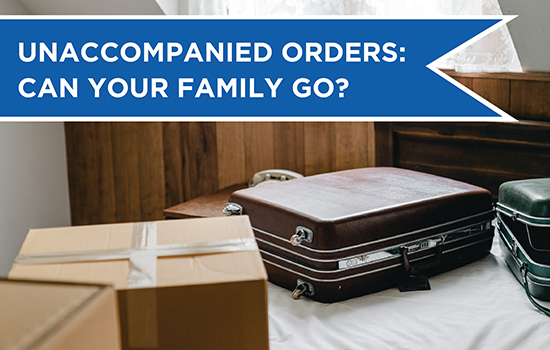 For anyone dating or married to a military service member, "unaccompanied orders" can be a complicated and frustrating situation. I often see questions from people wanting to know whether or not their family should request unaccompanied orders, or whether they can follow their service member overseas with unaccompanied orders. As someone who has lived overseas with accompanied orders, I can tell you the challenges you will face if you are not listed on them.
What are Unaccompanied Orders?
When a service member receives unaccompanied orders, it means that his or her family members are not listed on the orders and are not expected to accompany them to the next duty station. This can happen for a variety of reasons.
Short-term Assignments
If a service member leaves their current base for a school or training that is less than 9 months, the military may not relocate the family to accompany the service member. The service member is often expected to stay in barracks or bachelor quarters during their class, while the family continues to stay in their current housing situation on or off base.
Health Issues
If the military wants to send a service member to a smaller duty station that does not have convenient access to local hospitals, the location may not meet the needs of family members with specific health conditions or special needs. That is why there is an EFMP (Exceptional Family Member Program) on base to articulate those needs. When a service member receives orders overseas, the entire family must pass a medical screening process to ensure their needs will be met at the foreign duty station. Depending on the service member's job, family member health can either make them ineligible for those orders, or it can turn the orders into an unaccompanied tour.
Safety and Stability
Some locations do not allow service members to bring their families because they are located in a somewhat volatile or dangerous part of the world. Service members can be assigned for one to two years overseas without family members.
Can I Move with my Service Member's Unaccompanied Orders if I Pay Out of Pocket?
This answer is more complex because it depends on the location and the reason the orders are unaccompanied. If the service member is sent to a short-term school assignment, for example, then a family could choose to pay for their own move, look for housing in the area, and move their Tricare coverage to the new location. This option can be expensive and relocating can be frustrating, but many families decide it is worth it to have more time together. In this case, be sure to research your service member's BAH rates to determine if it is still calculated at the former duty station and whether it will cover housing at the new location.
However, if the family receives unaccompanied orders because of medical or safety concerns, then I strongly caution you to carefully consider whether to follow the service member, especially overseas. You may be allowed to visit for extended periods; however, living and working overseas without being listed on military orders can be extremely expensive and challenging. Here are some of the issues:
No Health Care
If you are not listed on orders, Tricare may not cover your need for specialists or certain prescriptions in your area, especially if that is what caused your family to be medically rejected from the orders. Even if you are relatively healthy, you may not have access to the base hospital for appointments or emergencies.
No Visa
Without command sponsorship, you can get your own passport, but you will not automatically have a Visa to enter a foreign country. In some locations, this means you cannot enter the country at all. In most nations, it means you are not allowed to visit for longer than one month. Moving overseas when you are not listed on the orders can be a difficult scenario.
No Base Access Overseas
Without an ID card issued by the foreign government, you cannot get on base without your sponsor. This means you will have to live off base and use local stores instead of the Commissary or PX/BX/NEX. However, your service member will be given housing on base and will NOT receive any additional housing allowance such as BAH or OHA (Overseas Housing Allowance.)
No Jobs
Getting a job overseas is difficult even for a family member listed on orders. Many host nations with Americans on base have a SOFA (Status of Forces Agreement) that guarantees most base jobs will go to local nationals. Without a Visa, you are not allowed to work on the local economy, even if you speak the language.
Very Expensive
Not only will you be paying for your own plane tickets and moving expenses, but you will also be paying out-of-pocket for housing, utilities, transportation, medical care, and daily expenses. No one can stop you from following your service member overseas on unaccompanied orders, but it is a decision that will require a lot of thought and research, along with a strong savings account.
This article was originally published on PCSgrades.com, a review platform by and for military and veteran families.