Tax Season Tips for Military Families
By: MJ Boice, Staff Writer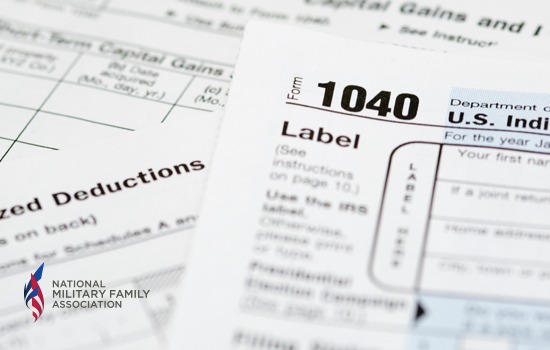 Tax season can be a confusing time for everyone, and for military families, even more so. Thankfully, there are plenty of organizations and resources available to help military families with their taxes.
As you prepare to begin filing your taxes for the year, it's important that you have all necessary documentation to complete the process. Examples of these documents include:
Your family's personal information, such as Social Security numbers;
W2 form(s) from each employer you worked from over the last year. If your service member is deployed, you'll need a Power of Attorney (POA) as well as their MyPay information so you'll be able to access their W2 form.
1099-MISC form from each company you did business with and/or independent jobs you've performed over the last year, (unless you earned less than $600 for the year);
1098 form from your mortgage company if you own a home. For most people, mortgage interest is tax deductible;
1098-E form to deduct interest you may have paid on any student loans;
Receipts for childcare, education, adoption, charitable donations, or any expenses you plan to deduct.
There may be other forms you'll need that aren't listed here. Check out the IRS military webpage for more information on other specific forms you could need.
Once you have your documentation in-hand, you have several option to begin filing your taxes. For example, you could file online:
Maybe this is the first time you're in charge of doing your family's taxes and you're worried about messing something up. Or maybe you're just generally unsure how to proceed. Either way, it wouldn't hurt to contact a tax professional for assistance. When it comes to your taxes, there's no shame in having someone else crunch those numbers for you. We recommend:
Making an appointment at your installation tax center; or
Working with a trained professional on-site using the Volunteer Income Tax Assistance (VITA) program through Military OneSource. They offer FREE in-person tax preparation and assistance at locations worldwide. These tax professionals have extensive knowledge on topics like residency, relocation, filing extensions, and other issues that impact taxes for military families.
A Word on Tax-Related Identity Theft
Identity theft is a real issue, and thieves love to target military families because they're always on the move. But did you know a stolen Social Security number could be used by thieves to get a job or file a tax return in your name?
It happens more often than you think. You may not even realize your information was stolen until you get a letter from the IRS saying you've filed more than one tax return, or that you have to report wages from an employer you've never even heard of.
There are ways to avoid becoming a victim of tax-related identity theft, such as making sure to file early before a thief has a chance to file a tax return with your information first. And it just so happens that Tax Identity Theft Awareness Week (yes, that's a thing) is happening next week. The FTC will be holding webinars and a Twitter chats the week of January 29 – February 1 in case you'd like to join in.
In the meantime, start gathering your forms, receipts, and other documentation. Whether you're a tax-filing pro who's done this for years, or a first-time filer who needs a little help, the resources and information above should make for a smoother tax season journey.
Posted January 30, 2018