Operation Purple Healing Adventures celebrates rediscovering family-fun and togetherness after an injury. This FREE three-day experience combines family-focused activities with outdoor exploration, like hiking and canoeing to encourage each family's growth on their new journey post-injury. Our Association welcomes wounded, ill, injured, medically separated, or medically retired military families to reconnect at Healing Adventures. Families take part in uniquely designed resiliency building activities developed by the American Red Cross, and build memories through fun family oriented activities like hiking, canoeing, and even building bird houses! Our Operation Purple Healing Adventures ensure families return home stronger with better communication skills and brand new "purple" memories.
Previous Locations:
GA – Winder
TN – Antioch
NC – Hendersonville
NC – Parkton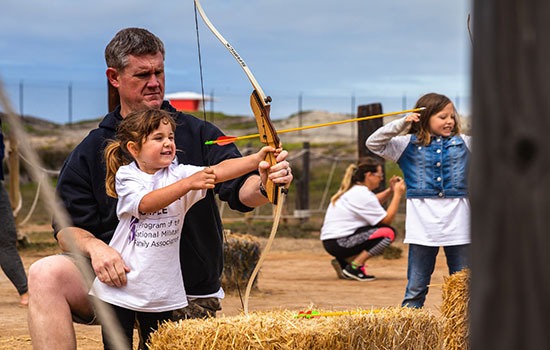 We are a military family, not just my Husband. Our kids have dealt with multiple deployments, PCS moves, school changes & Daddy's Illness. TBI, PTSD, several knee surgeries, and most recently a diagnoses of Multiple Sclerosis. Vacations are few and far between, a camp like this would be an amazing bonding experience for us to all enjoy & learn from together.
Andrea
Sample Welcome Packet
Find information about:
Getting to camp
Recommended packing list
Program details and schedule
Camp map
Upcoming Healing Adventures
Applications will be available 6-8 weeks prior to each Healing Adventure.
Want to know what to expect at Operation Purple Healing Adventures?