Operation Purple Healing Adventures®
Rediscover Family Fun After an Injury
Operation Purple Healing Adventures® support families learning to cope with their "new normal" after an injury. This free, three-day experience combines family-focused activities with outdoor exploration, like hiking and canoeing, to encourage each family's growth on their new journey post-injury. Healing Adventures ensure families return home stronger with better communication skills.
Families of an active duty, medically retired, or medically separated service member who was wounded or experienced emotional trauma or illness related to their service Post-9/11. Members of the National Guard and Reserve may be in either activated or drilling status, provided their injury was sustained while on active duty status.
What happens at Healing Adventures?
Families are encouraged to relax, unplug, and enjoy an assortment of activities while at Operation Purple Healing Adventures. 
We offer families—including kids—uniquely designed resiliency-building activities that promote connection and communication between family members.
Operation Purple Healing Adventures locations include awesome outdoor activities like canoeing, swimming, archery, sightseeing, and hiking!
Each camp is respectful and accommodating of limitations due to injury, and programming is adapted to allow every family member to participate!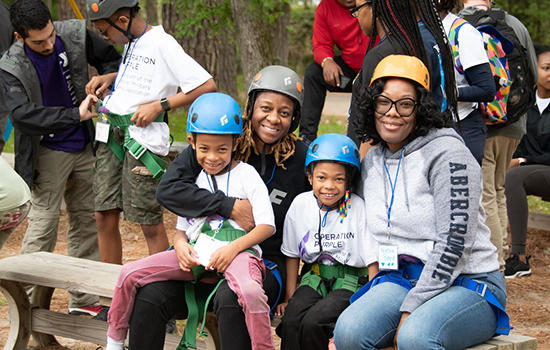 We are a military family, not just my Husband. Our kids have dealt with multiple deployments, PCS moves, school changes & Daddy's Illness. TBI, PTSD, several knee surgeries, and most recently a diagnoses of Multiple Sclerosis. Vacations are few and far between, a camp like this would be an amazing bonding experience for us to all enjoy & learn from together.
Find information about getting to camp, packing lists, program details and schedules in our sample welcome packet.