Paid Family Leave Allows Working Military Spouses to Focus on Family and Career
By: MJ Boice, Staff Writer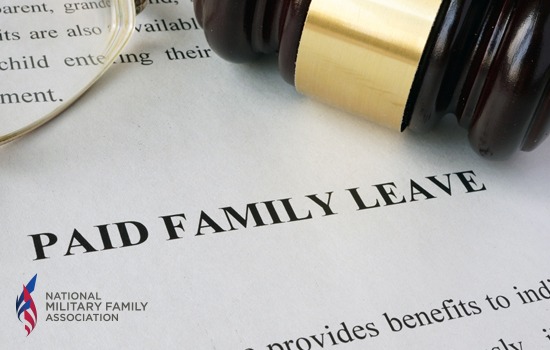 The Family and Medical Leave Act (FMLA) has helped millions of employees across the country keep their jobs while they take time off to care for an ailing family member.
We've championed military expansions so military family members can use FMLA for deployment issues, or to care for an ill or injured service member. These protections allow you to keep your job while taking care of your family, but only in an unpaid status. However, it's possible that you may be able to receive Paid Family Leave.
Paid Family Leave (PFL) is exactly that: PAID. In a nutshell, PFL means you'll be able to maintain an income if you're out of work for an extended period of time to recover from a serious health issue, care for a family member, or have adequate time with a newborn or after an adoption.
There are a few sources from which you can receive PFL funds:
From Your Employer: Some, but not many, employers have their own PFL policies. Companies that voluntarily provide PFL will each have their own requirements and criteria. PFL policies usually vary from one employer to the next, and are never a guarantee.
From a Short or Long-Term Disability Insurer: You can get this through your employer or on your own through a third party insurer. Usually you will pay the insurer a premium each month, and in the event of an extended absence, you'll receive payment directly from the third party insurer.
From Your State: A growing number of states have enacted PFL legislation, or are looking to move that way. Only a handful of states have passed PFL legislations, which mandate employers to offer PFL under specific guidelines. Those guidelines can vary from one state to the next. Currently, only 15 percent of employees in the U.S. have access to PFL through their employers.
There are numerous benefits to providing PFL. Studies have shown that working mothers who had access to PFL were more likely to take the amount of time off work that was recommended by their doctor after giving birth. Their newborns were more likely to be seen by their pediatricians more regularly and receive their immunizations on time; ensuring healthier children over time. This gives an employee's children a healthier start in life; and a decrease in the likelihood of future illnesses that might incur more time off work.
PFL also benefits businesses, as well. Companies that offer PFL to their workers can see an increase in productivity and morale. Employees will be more likely to remain loyal to their employer, which improves employee retention. Significant savings can be found when a company has a lower turnover rate.
Military families would, perhaps, benefit the most from PFL. Working military spouses already have a difficult time maintaining long-term employment due to PCS moves, deployment, and childcare obligations. PFL would ease the financial strain; allowing military spouses to focus their time on both work and family. Service members will then be more focused on the mission and less focused on how to pay their bills.
FMLA protections ensure that your job will be there when you return from an extended absence. However, most families incur financial hardships since FMLA leave is unpaid and cannot afford to take leave without pay. Those families are often forced to decide between taking time off of work for a serious health issue and keeping a roof over their heads. Many workers who were faced with this dilemma chose not to take the leave because their families wouldn't survive if they did.
No one should have to choose between their job, their family, or their own health, and hopefully, with Paid Family Leave, no one will have to.
Have you ever received Paid Family Leave? We want to hear how PFL helped your military family! 
Posted February 22, 2018