What Military Families Need to Know About Telehealth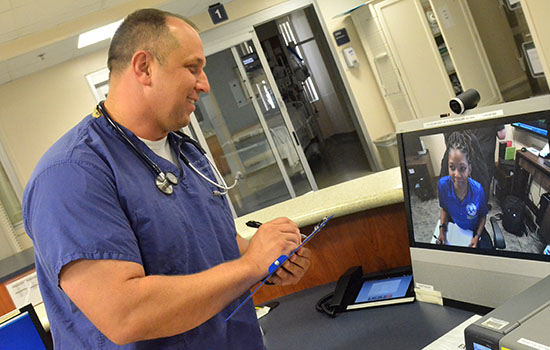 By: Eileen Huck, Deputy Director Government Relations
The pandemic has changed the way we get health care.
While many states have lifted coronavirus-related shelter-in-place restrictions and stay-at-home orders, many military families are still choosing to limit unnecessary travel and staying home as much as possible.
For some, that includes avoiding the doctor's office and, instead, postponing medical care. Of course, that's not sustainable (or healthy!) indefinitely, and some care can't or shouldn't be postponed. Luckily, there's an option for families who want to receive medical care safely: telemedicine. Like your staff meeting, happy hour, or child's classroom, you can now connect with your health care provider virtually!
TRICARE has made several changes to its policies governing telemedicine so you can get the health care you need now, wherever you are. To make telemedicine even more appealing, TRICARE announced, effective May 12, all cost shares, co-pays, and deductibles are waived for telemedicine. Military families will have no out-of-pocket costs for accessing care via telemedicine.
Services Covered by Telemedicine
TRICARE has greatly expanded the services they allow to be provided via telemedicine. Under the current policy, any medically necessary service can be provided via audio or video conferencing. Covered services include office visits, preventive health screenings, and speech, physical, or occupational therapy.
Mental health services are also included in current telehealth policies. Covered services include individual psychotherapy, psychiatric diagnostic interviews and exams, and medication management.
There is one notable exception: Families receiving Applied Behavioral Analysis (ABA) therapy under the Autism Care Demonstration may use telemedicine, but only for parent or caregiver support guidance.
How Telemedicine Works
Telemedicine, like all your virtual school, work, and social activities, requires connectivity and bandwidth. To mimic in-person meetings as closely as possible remotely, secure audio-video conferencing is the best way to meet remotely with your care provider. Your provider will explain what processes they are using, and different providers may be using different technologies. All are required to adhere to HIPAA privacy standards.
Because not all patients or providers have reliable internet or access to video conferencing devices or platforms, TRICARE will now allow providers to offer care via audio only when audio-video technology cannot be used.
Providers Who Can Offer Telemedicine
One challenge to accessing care remotely has been TRICARE's licensing requirements. Until now, TRICARE has required health care providers to be licensed in both the state they live and the state the patient is. This administrative burden limited the number of providers able to offer care remotely. In order to increase the number of providers able to offer care via telemedicine, TRICARE has lifted this requirement for the duration of the COVID-19 national emergency. This change will also apply overseas. However, the provider must hold an equal license in the other country and the country where the provider practices must permit such practice.
Will Telehealth Be an Option After the Pandemic, Too?
We're pleased that TRICARE has taken these steps to make it easier and more affordable for military families to access health care via telemedicine. Getting health care at home keeps families safer – and lessens the risk for health care workers and patients who need to see their provider in person. We're encouraging TRICARE to keep these changes permanent even after the national emergency ends.
Have you or a family member used telemedicine? What was your experience? Share your stories with us!