We Are All Advocates: NMFA Executive Director Shares Tips for Making a Difference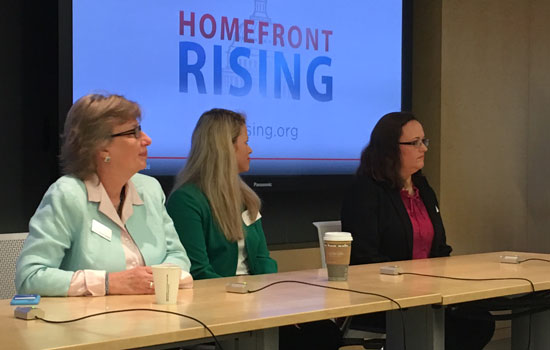 "Know your rights as a military spouse and family, and as an American citizen," National Military Family Association Executive Director Joyce Raezer shared with a room full of military spouses and supporters May 12 in Washington, D.C.
Raezer spoke on the "Advocacy 101" panel of Homefront Rising's 2017 conference, along with Ashley Broadway Mack (American Military Partners Association), and Megan Poane (U.S. Chamber of Commerce Foundation Hiring Our Heroes).
The panel aimed to teach military spouses how to make a difference in their lives, and the lives of other military families by establishing a platform for advocacy.
AMPA's Ashley Broadway Mack encouraged attendees to take a step outside of their comfort zone and reach across the aisle to get conversations started.
In years past, military spouses have received criticism and brash reactions when they spoke out on issues that affected their families.
"As years go by, there is less fear of backlash," said Raezer, a military spouse herself, who has made a career of advocating for military families.
She recalled a time when the Fort Knox Department of Defense Education Activity (DoDEA) school board—which Raezer served on at the time—sued the Department of Defense.
"We had to decide as a group if it was worth the backlash," she said. "There will always be others who aren't willing to go out on a limb with you… and that's okay."
As more military spouses engage with their local installations, and reach out to communities beyond their gun-guarded bases, the number of military spouse advocates continues to rise. But for others, fear and a lack of knowledge of how to advocate on their own behalf keeps them from speaking up on issues that matter.
Raezer shared that the heart of NMFA's mission began in 1969 (at a kitchen table!) when a few military spouses wanted to make sure their war-widowed friends were taken care of.
Their effort snowballed into a grassroots uprising. A short time later they were on Capitol Hill celebrating the creation of the Survivor Benefit Plan, which gives surviving spouses of service members killed in action benefits to make up for the loss of their deceased spouse's income.
But there's no magic wand to create advocacy success like the Survivor Benefit Plan.
Audience members learned the best way to make a difference starts as simply as having a passion for something and knowing that you are your best advocate.
"Start with your story," Raezer said. "Do your research and go to meetings on topics that are important to you. Search social media and find organizations that are fighting the same fight, and finally, speak up when you see a problem. No one tells your story better than you do…we are all advocates."
Posted May 16, 2017