Trump and Clinton Campaigns Visit NMFA Office to Discuss Military Families
By: Shannon Prentice, Content Development Manager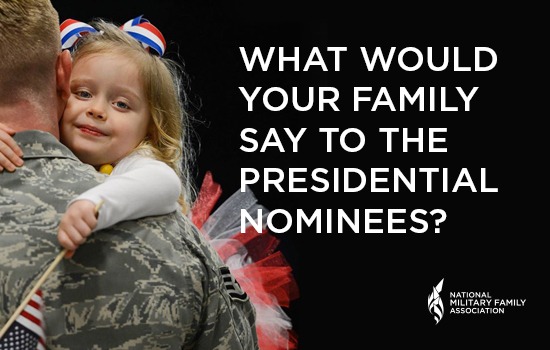 Military and veteran policy advisors from the campaigns of both major presidential nominees were in the NMFA office on October 13 to hear from organizations who fight for our nation's families.
As a member of The Military Coalition  (TMC)—which is comprised of 33 organizations representing the 5.5 million uniformed service members and their families—NMFA hosted both campaigns at our headquarters in Alexandria, Virginia to share the questions and concerns military and veteran families want our next Commander in Chief to know about.
Most military families, like yours, face uncertainties every day. And NMFA understands these struggles.
That's why, for nearly 50 years, we've continued to fight for solutions and answers that withstand the test of time. We know Band-Aid fixes and wishful thinking won't last.
We explained to both campaigns that years of budget uncertainty have left families wondering whether the programs and services they rely on to remain ready will still be there for them. At the same time, families are being asked to shoulder more health care and housing costs. All this while deployments are still going on, and families are still sacrificing. Who could blame military families for questioning whether making the military a career is worth it?
Military families are tired of getting mixed messages from our nation's leaders.
You want to know what lies ahead on your military journey. Your family sacrifices each and every day, and we made that clear to both Clinton and Trump camps.
Which services and programs can you rely on to maintain readiness? Will there ever be a more predictable deployment schedule? What will happen when, your family transitions from military service to the civilian sector? Will the gap between military and civilian worlds still be there? And what about care and support after military service?
Secretary Clinton and Mr. Trump have very different approaches on these issues that you should definitely take the time to check out before heading to the polls.
We urged both parties to consider taking a deeper look at the needs of military families, like yours, and we encourage you to make informed decisions about who our nation's next Commander in Chief should be.
What issues would you share with the presidential nominees?
Posted October 14, 2016