TRICARE's ECHO Program Needs Improvement. Here's How You Can Help.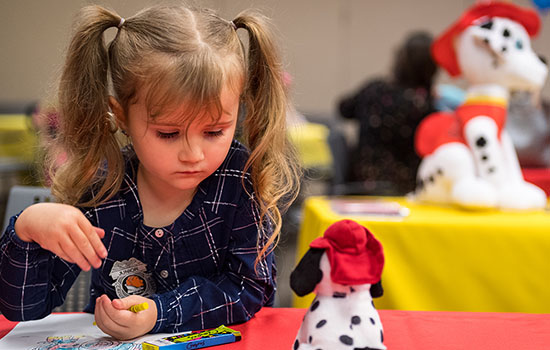 TRICARE covers a lot – but it doesn't cover everything.
For military families with special needs or medically fragile children, this can be a challenge. Respite care services, assistive technology, rehabilitation, and vocational and educational training might be urgently needed by their family but, uncovered by TRICARE, these critical services are seemingly out of reach.
Civilians on commercial insurance plans face the same problem – most of these things aren't covered for them, either. That's where Medicaid Home and Community Based Services (HCBS) come in. A state-run program, HCBS offers a viable path to these services – but often with waitlists so long that military families might PCS before they ever get off the waitlist.
That's why TRICARE offers a program called ECHO.
What Is ECHO?
ECHO is TRICARE's Extended Care Health Option.  It's intended to provide military families with the same services and support as Medicaid HCBS, and it is available for active duty and activated Guard and Reserve with a family member enrolled in their Service's Exceptional Family Member Program (EFMP). There is a monthly cost share, which varies depending on the service member's pay grade.
While ECHO can help military families get the additional services they need, it's not a perfect program. Many military families who could benefit greatly from the program don't know about it, and those who do report that it's too restrictive and doesn't meet their needs the way it should.
When ECHO Doesn't Work
A prime example of ECHO falling short is how it provides and allows for respite care. Caring for a special needs child can be physically and emotionally exhausting and, since it's a 24/7 job, parents often find themselves overtaxed and burned out. You can't just leave medically complex kids with a sitter and take some "me time" – instead, parents need to have trained, safe care that allows the parent to refuel as needed. HCBS offers this effectively – and many states programs offer up to 700 hours or more per year of respite care.
Now imagine you're a military family with a special needs kid, going through the long slog of deployment, with no qualified hands to help out. Respite care can help!
Unfortunately, ECHO limits that service to 16 hours per month and surrounds it with red tape. Many families can't find qualified caregivers willing to work for such limited hours, meaning the respite care benefit is virtually unusable.
NMFA wants to change that.
NMFA Is Working to Make ECHO Better
NMFA wants to make ECHO a better benefit for military families – one that helps military families when they need it and provides real services that make a difference. That's why NMFA supports the TRICARE ECHO Improvement Act, which was included in the National Defense Authorization Act (NDAA) passed by the House of Representatives on July 20.
This bill would increase the number of respite care hours to 50 per month. It would also improve coverage of home and vehicle adaptations. Finally, it calls for a study of services available through state Medicaid programs and veterans' caregiver programs to ensure ECHO is in line with best practices.
If passed, the TRICARE ECHO Improvement Act and would improve the quality of life for special needs military families. In order for that to happen, the language needs to be included in the final version of the NDAA that's agreed on by both the House and the Senate. (Confused about that process? We have an explainer here.)
What You Can Do To Help
We need your help! If you are a military family who could benefit from the TRICARE ECHO Improvement Act, share your stories with us. We'll pass them on to Congress so they know how important this legislation is.
By: Eileen Huck, Government Relations Deputy Director