Filling TRICARE Prescriptions: CVS and Target are Out, Walgreens is In
By: Karen Ruedisueli, Government Relations Deputy Director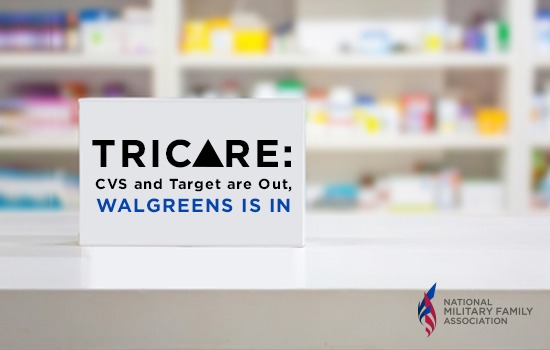 Forget about picking up your prescriptions during that Target run. CVS is out, too. Starting December 1, 2016, CVS pharmacies, including those in Target stores, will no longer be part of the TRICARE network. In their place, Walgreens joins the network and can begin filling scripts that same day.
Some of us can hear our wallets thanking us now (who else can't get past the $1 section of Target without picking something up?!), but rest assured, filling prescriptions won't be as burdensome as it may seem.
Please keep in mind, you won't have to switch to Walgreens – other pharmacy chains, such as Rite Aid, Walmart, supermarkets, and local/independent pharmacies will remain in the TRICARE network. And as usual, Military Treatment Facility pharmacies and the TRICARE Pharmacy Home Delivery program are still available to military families.
Military families who use CVS or Target pharmacies should prepare to transfer their prescriptions to Walgreens or another TRICARE Network pharmacy.  In case you forget, TRICARE will begin notifying all military families of the change on October 1, 2016. Recent CVS/Target users will receive additional communications notifying them of the need to transfer their prescriptions.
A few other things to consider with this change:
What about the flu vaccine?  Can I get a flu shot at Walgreens?
TRICARE will cover a flu shot at Walgreens after December 1, 2016.  Until December 1, you can get a flu shot at CVS or Target.  Make sure you get the shot from the pharmacist or it may not be covered.
What about the Minute Clinics at CVS and Target?  Can I still use those?
Yes! Minute Clinics will continue as TRICARE Network urgent care providers even after CVS and Target leave the TRICARE Pharmacy Network.  Keep in mind that after December 1, if the Minute Clinic gives you a prescription, you will need to have it sent to Walgreens or another TRICARE Network Pharmacy – it won't be covered if you get it filled at CVS/Target.
What happens if I fill a prescription at CVS after December 1, 2016?
You will have to pay the full cost of the medication upfront and file for a partial reimbursement. Click here to learn more about non-network pharmacies.
Can I move my prescription to Walgreens before December 1, 2016? 
Yes, you can transfer your prescription to Walgreens before December 1, but you should not fill it at Walgreens before December 1. If you fill your prescription at Walgreens before then, you will have to pay the full cost of the medication upfront and file for partial reimbursement.
How do I transfer a prescription to another network pharmacy?
There are several options. You can:
Take your prescription drug bottles to the new pharmacy. The pharmacist there will contact your old pharmacy.
Call your new pharmacy and ask them to get your prescription drug information from your old pharmacy.
Ask your doctor to send your prescription drug information to the new pharmacy.
How does this affect families living overseas?
There are no changes to filling prescriptions overseas.
I get a drug that requires a prior authorization. Do I need to get a new Prior Authorization?
No, your existing prior authorization won't change.
What if I have a specialty medication filled at CVS or Target?
Beneficiaries using CVS or Target for specialty medications will receive additional assistance in transferring their prescription as needed, including phone calls and communications with the prescribing physician. It is strongly recommended that you have an ample supply on hand when you transfer your specialty prescription to a new pharmacy.
Is there anything else I need to do?
If you currently list a CVS or Target location as your preferred pharmacy, please remember to inform your doctors of your new pharmacy so they have the correct info in their electronic prescribing system.
While this change may cause many military families to make an extra trip to their beloved big, red shopping mecca, Express Scripts, the TRICARE pharmacy contractor, says this network change will provide better value to TRICARE, and ultimately, military families like yours. It will also expand access to 24-hour, drive through pharmacies—something Target doesn't offer.
What do you think about this change to military family retail pharmacy options? Please share your thoughts in the comments section below.
Posted October 5, 2016