Top 3 Myths about Overqualified Military Spouses
By: MJ Boice, Staff Writer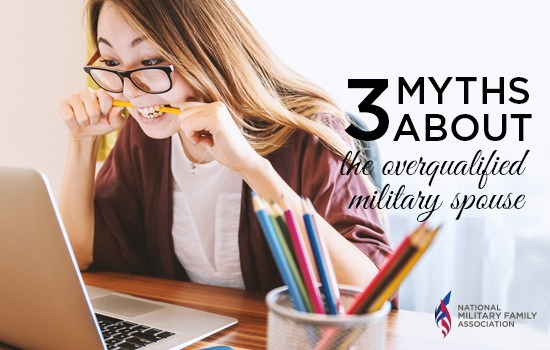 Cities near military installations often have a high population of military spouses looking for work, so the labor market becomes saturated. Most spouses search for months without finding suitable employment, only to find a position where their skills go underutilized and their education doesn't even apply.
Sound familiar? We thought so.
Hiring managers think they know why most military spouses are looking for work, but many of those same hiring managers write off exceptionally over-qualified military spouses as potential employees because of a few common misconceptions.
We're here to bust those myths.
Myth 1: You won't be challenged enough in the position.
If the hiring manager believes the job won't challenge you, they might think you'll get bored quickly and quit.
In your cover letter, address the skill gap out-right and highlight your qualifications as an advantage for the company. For example, not only are you qualified for the position, but you'll also be able to assume more responsibility in a shorter amount of time. You may have more skills than the job requires, so tailor a handful of your specific abilities as they pertain to the job description. Paint a picture of how your unique skill set will benefit the company over time.
Myth 2: They can't afford your salary.
You're probably already (painfully) aware that you may need to take a pay cut if you're overqualified for a position. But that doesn't mean you'll stay at that pay forever. "Your dream job may be another position within the same company or organization," says Sue Hoppin, Founder and President of the National Military Spouse Network.
During your interview, make sure the hiring manager understands why you want to work for their company. Focus on why you're interested in that particular position and explain that compensation isn't always monetary. If the job interests you because it offers a flexible schedule or doesn't require travel, the hiring manager will have a better understanding of why you would want the position.
Myth 3: You'll leave when you find something in your field.
If the hiring manager thinks you're just desperate for a paycheck, they might believe you'll just quit when you finally find something in your field. This might be true, but there's no shame in having a place marker.  "The best time to look for a job is when you already have one," says Hoppin.
If you're just looking for a job to get some money coming in until something else comes your way, it's probably not a good idea to say that in your cover letter or in an interview. Instead, talk about why you want the job in the first place. Tell the hiring manager that you want the position because of its flexible schedule, opportunities for experience, or because you support the mission of the company.
Military Spouses are Still Struggling to Find Employment
If you're a military spouse battling employment challenges, we feel your pain. And we know many of you have used every resource available to you, including your installation employment assistance centers, which are sometimes not equipped to offer resources specific to those with advanced degrees or experience.
Not every employment assistance center is created equal and opportunities for employment or job searching will vary from installation to installation. Depending on the duty station, some employment assistance centers are able to help these overqualified military spouses find positions in their field through other means, such as interview and resume classes.
Military spouses are always encouraged to pursue and obtain an education, even beyond a four-year degree…but then what? Despite the challenges many spouses face thanks to multiple deployments and oversaturated labor markets, they continue to bust the myths surrounding their skills.
If you're a hiring manager, it's time to take note of the military spouses who want to work for you. They're ready to bust myths and break barriers.
Posted February 27, 2018