Thousands of Military Families Participate in Operation Purple at Home Virtual Camp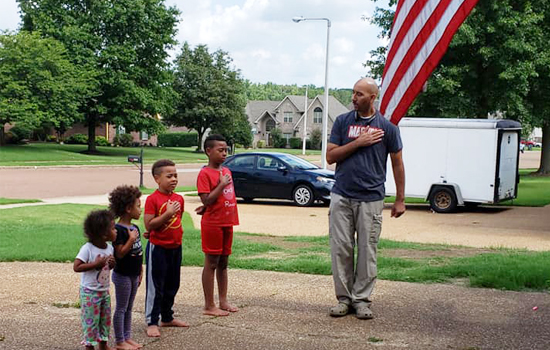 They say the memories made at summer camp last forever. The campfires, friendships, and the outdoors combine to leave a magical mark on our heart that we'll always remember.
What happens when summer camp goes virtual?
The magic multiplies.
A One-of-a-Kind Camp Experience
Operation Purple at Home, a 5-day virtual summer camp for military and veteran families, hosted July 6-10 by the National Military Family Association and powered by Wounded Warrior Project, brought families from around the world together for a one-of-a-kind camp experience… at home!
Self-paced, offline activities promoting family connection and communication were paired with live, digital events and activities. Participants joined an exclusive Facebook group to meet and engage with one another, build community, and share the camp experience together.
For military families, Operation Purple at Home was a much-needed break from the challenges of 2020.
"I really feel like we were away at camp because we have been so engrossed in the activities that the heaviness of the state of the world right now has been temporarily lifted," military spouse Deneen McBroom shared.
Special Guests Surprised Camp Families
NASCAR Champion Brad Keselowski, Wounded Warrior Project CEO Mike Linnington, the GEICO Gecko, and NASCAR truck driver and active duty service member Jesse Iwuji, along with 20 U.S. Senators and military officials, stopped by (virtually!) to surprise participants and share in the excitement of Operation Purple at Home's camp week.
New Jersey Devils hockey star and right-wing Kyle Palmieri hosted an exclusive game of "Ask Me Anything," where camp families submitted questions for the NHL All-Star to answer. Spoiler, he loves buffalo wings and S'mores with Nutella!
Daily Activities Brought Military Families Together
During the virtual camp week, families enjoyed signature Operation Purple activities that encouraged quality time together outdoors.
Every morning, families were given two, self-paced activities to complete together around a specific theme.
In the afternoons, families would join the camp community inside the Facebook group for unique, real-time activities with partner organizations, including learning about incredible invertebrates and how to find them with experts at the Montana Natural History Center and building resiliency skills with the Red Cross.
Families with younger campers were also given access to special activities that supported the day's theme. These activities were interspersed with celebrity shout-outs and inspiration for each activity from community organizations like wear blue: run to remember and Team Red, White & Blue, and the PenFed Foundation.
All the fun happened within the supportive community that the Operation Purple at Home virtual environment fostered.
"There is something so special about military life and being around so many others who 'get' your life…is a precious gift! You helped us make lifetime memories!" Gold Star Army spouse Jennifer Parmar shared.
Jennifer and her children are navigating life without their service member, SFC Abraham Parmar, who died in 2019. "He was a big kid himself. He treasured family time. This week would have been right up his alley!" She said the activities brought up great conversations and gave her kids a chance to show new leadership skills, all while the family was surrounded with virtual love from the military community.
The Parmar family was joined by more than 3,000 military and veteran families who signed up to participate in Operation Purple at Home.
Of those,1,808 families joined the exclusive Facebook group for added community and activities, and contributed to over 3,000 posts from camp families, showcasing hundreds of real-life photos and videos of camp activities. The group also engaged in numerous organic conversations about military life, fostering connection and new friendships.
The Magic of Camp Lives On
Even after the end of the virtual camp week, the group lives on – and so does the magic of camp. Families have continued to engage with each other in the space, and while NMFA continues to plan Operation Purple at Home activities for families to enjoy, individual leaders have found ways to keep the connections made at camp going.
"There has been complete joy," Deneen said, "I have personally gotten so much out of this experience that camp has truly been everything I didn't know I needed. I will forever be grateful for this precious gift."
Operation Purple at Home may not be a traditional summer camp, but one thing is certain: it'll be a summer these military families will always remember.
Did your family miss the live virtual camp week? No problem! Activities, resources, and tools are available now on our Operation Purple at Home Campsite for families—anytime, anywhere.