This Memorial Day Tradition Lives on Despite COVID-19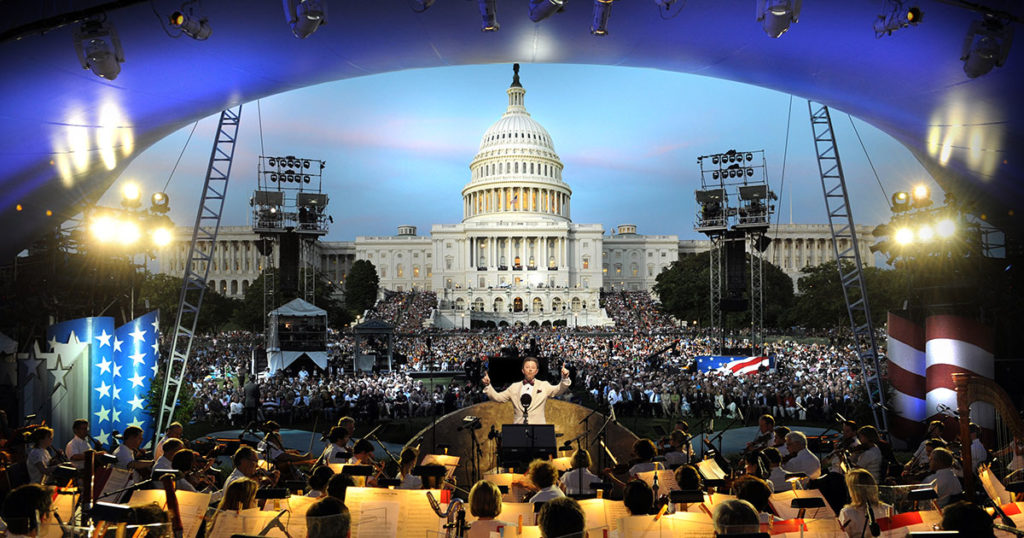 For many of us, it's almost an American tradition to watch the PBS National Memorial Day Concert. Each Memorial Day weekend since 2017, I've had the opportunity to join a handful of other military and veteran influencers at the concert rehearsals and watch some of America's greatest talent grace the stage for one of PBS' highest-rated programs.
For over 30 years, half a million spectators would flock to the West Lawn of the Capitol, set up their chairs, lay out their blankets, and sit shoulder to shoulder as each performance enhanced their sense of patriotism. They would stand silent and steadfast as the national anthem was played. They would hear the stories of heroes who gave their lives to save ours. They would listen to the upbeat marches of some of our nation's premier military bands. They would gather close and unify through the songs, stories, and sentiment that this concert is known for.
A Big Change is Coming to This Year's Concert
Due to the COVID-19 pandemic, the concert has been forced to pivot to an entirely virtual concert experience. The concert has always been broadcast live on TV, seen across the world through AFN and live-streamed on the internet and social media, but this year even the cast will have to perform remotely. That's a BIG change!
But it would seem that moving from a live concert experience to a virtual one is just about the only thing that's changed in the show's format. Joe Mantegna and Gary Sinise are returning to host a star-studded line-up, to include:
Former Secretary of State Colin Powell, Cynthia Erivo, Renée Fleming, Trace Adkins, CeCe Winans, Kelli O'Hara, Mary McCormack, Christopher Jackson and the National Symphony Orchestra conducted by Jack Everly, as well as General Mark A. Milley, chairman of the Joint Chiefs of Staff. The broadcast will also feature performances from previous concerts, including those by Sam Elliott, Laurence Fishburne and Esai Morales.
Also sprinkled throughout the show, you'll hear special messages from a wide variety of actors, singers, songwriters and TV personalities, like:
Anthony Ramos, Blair Underwood, Brian Tee, Chely Wright, Chris Evans, Courteney Cox, Denis Leary, Dule Hill, George Clooney, Graham Greene, Gwyneth Paltrow, Jaina Lee Ortiz, Jennifer Garner, Jimmy Kimmel, Jimmy Smits, Jon Hamm, Julianne Moore, Lindsey Vonn, Lisa Kudrow, Marcia Gay Harden, Mark Wahlberg, Milo Ventimiglio, Noah Wylie, Rita Moreno, S. Epatha Merkerson, Steven Weber, Sugar Ray Leonard, and Vanessa Williams.
And, as always, we're sure to be filled with Esprit de Corps through performances by:
The U.S. Army Herald Trumpets, the U.S. Army Chorus, the U.S. Army Voices and Downrange, the Soldiers' Chorus of the U.S. Army Field Band, the U.S. Navy Band Sea Chanters, the U.S. Air Force Singing Sergeants and Service Color Teams provided by the Military District of Washington, D.C.
Continue the Tradition to Honor and Remember Our Fallen Military Heroes
It's no secret that COVID-19 has changed nearly every aspect of the way we live…but PBS has our backs! Let's keep this American tradition going as a way to pay tribute to the amazing men and women who gave their lives for us, and honor their loved-ones. For Gold Star Families, every day is Memorial Day.
I hope you'll join me and millions of Americans around the world to watch the live broadcast of the 2020 National Memorial Day Concert on Sunday, May 24, 2020 at 8:00pm ET through one of the outlets below:
Posted by MJ  Boice, NMFA Volunteer and Marine Corps spouse